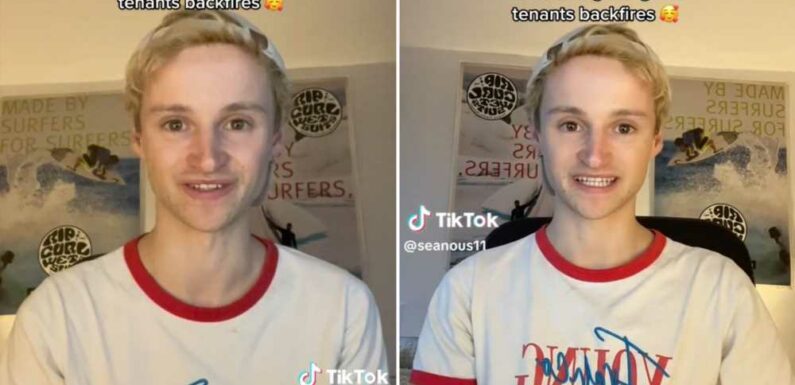 A BLOKE has told how he had the last laugh after being forced out of his flat when his landlord hiked his rent astronomically.
TikToker Sean has been revelling in the misery of the greedy property owner after he and his roommate were ousted from the Syndey apartment.
He and a pal had to pack up their stuff as they could not afford the extra $350 a week that their landlord demanded.
Taking to TikTok to explain his rental nightmare, Sean explained the pair had been forking out $950 a week before the fee was increased.
He claimed the landlord "overplayed his hand" and became money mad – which ultimately backfired.
As the flat was put on the market, the tenants were told to expect crowds of people roaming around the pad to view it.
Sean and his pal were warned hoards of potential tenants would descend on the apartment while they were still living there.
But it seems the landlord vastly overestimated the property's popularity – as not a single person turned up.
Discussing the "silver lining" of his housing ordeal, Sean said despite Australia's devastating rental crisis, no one bothered to view the pad.
He explained: "They just ran the first open house here before we move out, and guess how many people showed up? Zero.
Most read in The Sun
Nicola Bulley police divers return to river months after mum's death
Tragedy as footballer dies suddenly leaving his family & club devastated
Huge Eighties supergroup 'to reform' after 20 years for Eurovision Song Contest
Gritty BBC One drama set to return for second series
"Despite the one per cent vacancy rate in Sydney right now, and how desperate people are to find a place and the many houses I've been to in this area where there are people lined up down the street to move in, still not one single person showed up to this house."
The Aussie slammed the landlord for "kicking out good tenants" who had resided in the property for years for the sake of more cash.
Sean also fumed that landlords shouldn't buy houses they "can't afford" and expect tenants to stump up the money when interest rates soar.
He concluded his rant by simply adding: "Karma exists."
Social media users were left stunned by the extortionate price hike, especially due to the timing – as the property market Down Under tanks.
The video, simply captioned with the word "vindication", racked up nearly 720,000 views and thousands of comments.
'RIDDLED WITH ISSUES'
One said: "I can't believe $700 in one go is even legal."
Another wrote: "I would be at every open house and just point out all the flaws to prospective tenants. Get petty."
A third added: "SLAY! Hope they beg you to stay and lower the rent."
A fourth commented: "Can't get blood out of a stone. We don't have extra money to pay."
And a fifth chimed in: "And people wonder why a lot of people still live with their parents."
In a follow-up video, Sean said his landlord had also repeatedly ignored their urgent repair requests, such as serious water damage and mould.
He added: "Our place has been riddled with issues that they took almost a year to fix."
The tenant said the new rental price was "way higher than the average three-bedroom" in the area.
"I tried to tell them that when negotiating, but they didn't listen," he said.
We previously told how a woman was left speechless by her landlord's bizarre rent request – but it divided opinions on social media.
Read More on The Sun
Urgent warning for 150,000 grandparents missing out on £6,875 pension boost
Parents are scrambling to get their hands on kids' Croc dupes from Home Bargains
Evie Muir explained she and her housemates were stunned by a text message their landlord sent them after they paid their monthly rent.
The homeowner informed them the total was 50p short – and urged them to rectify their mistake when handing over next month's rent.
Source: Read Full Article