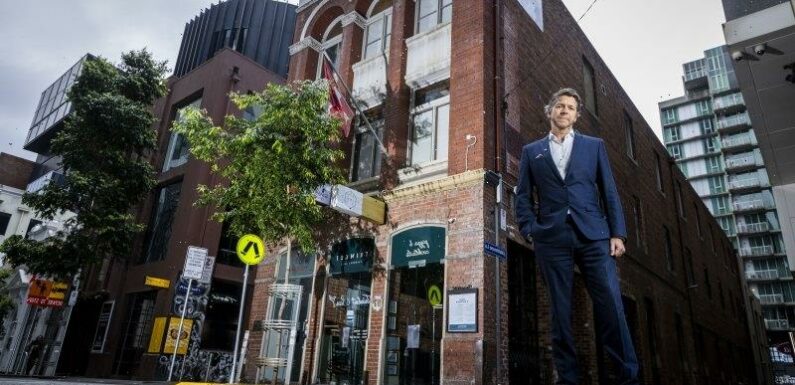 Key points
Planning minister Lizzie Blandthorn approved amendment C387 to the Melbourne planning scheme giving Melbourne's city centre heritage protection. 
The amendment applies heritage overlays to 121 individual places and five precincts in the Hoddle grid.
The Hoddle Grid heritage review started in 2016 and was backed by the National Trust of Australia as one of the most significant and complex heritage studies ever undertaken in Victoria.
Hardware Lane, Flinders Lane, the Waiters Club restaurant and Melbourne House will be given heritage status under a planning change touted by the deputy lord mayor as one of the most significant in Melbourne's history.
Planning Minister Lizzie Blandthorn on Friday approved an amendment to the Melbourne planning scheme that will provide heritage protection to a variety of buildings including some relatively modern structures.
Deputy Lord Mayor Nicholas Reece in front of the former Swiss club, at 87-89 Flinders Lane, which received heritage protection. Credit:Wayne Taylor
The protection will extend to 121 buildings and five precincts in the Hoddle Grid, including the Hill of Content book store on Bourke St, the Lyceum Club in Ridgway Place, Hosie's Hotel (built for the 1956 Olympics) and the Victoria Club building, which was the site of the "Great Bookie Robbery" of 1976 when six masked gunmen made off with the takings of the Easter Racing Carnival.
City of Melbourne acting Lord Mayor Nicholas Reece said the overlay provided the biggest single addition to the heritage register in Victoria's history.
"For those Melburnians who have been heartbroken by the loss of too many of our heritage buildings in recent years, this is a day to rejoice," he said. "This is the day when Melbourne has said enough is enough."
"It's the biggest set of new protections on heritage we will see in our lifetimes," he said. "It marks a huge addition to the heritage inventory of the state and it's a massive step forward for protecting Melbourne's iconic architecture and best-loved places."
The planning scheme amendment is more than 4500 pages, and Reece said it was an immense piece of work, with its approval a "monumental moment" for Melbourne.
Reece said Melburnians would be shocked to discover that until now, many significant buildings did not have heritage protection.
The Hoddle Grid heritage review started in 2016 and was backed by the National Trust of Australia as one of the most significant and complex heritage studies ever undertaken in Victoria.
Simon Ambrose, chief executive of the National Trust, said the review filled some urgent gaps in heritage protection across the city.
"This heritage review has redefined the very idea of heritage within the Hoddle Grid, not only protecting important nineteenth-century buildings and precincts but recognising 48 of the city's most significant buildings built between 1945 and 1975," he said. "This level of recognition for important post-WWII development is unparalleled in Australia."
Ambrose said the addition of local heritage protections to these sites provided certainty to the community, property owners and developers, hopefully putting an end to eleventh-hour appeals for protection when places come under threat.
Future development proposals for places selected for heritage overlay will need to consider their heritage values and Cath Evans, interim Victorian executive director at the Property Council of Australia, said property owners may need more support to offset this cost.
Resident Mark Baker in front of Melbourne House, which has been included in the heritage protection.Credit:Simon Schluter
"When introducing new heritage measures, we urge all councils to consider the higher private economic costs in the effective management and maintenance of heritage listed buildings," she said.
"Modifying a heritage listed building also often requires specialist consultant reports to justify a development proposal, meaning that a heritage listing can impose limitations on development and maintenance, which can block appropriate upgrades of buildings and higher levels of building performance."
However, Professor Charles Sowerwine, chair of the Royal Historical Society of Victoria, said the amendment provided certainty after many years of fighting for more protection of CBD buildings.
"The fact that we had such large chunks of unprotected heritage let us open for heritage loss and uncontrolled development," Sowerwine said, pointing to shuttered pubs and Elizabeth Street high-rises.
"We still have some beautiful streets and beautiful buildings and some precincts that will attract visitors for a long time. So let's hope this is a great turning point … and the City of Melbourne will begin to support heritage more."
Sowerwine said the amendment introduced protection for less obvious buildings, including some early commercial towers on Collins Street, which may not be as beloved to the public but are important to maintain.
"They are part of the ongoing history, so you don't want that erased so that you get international 80-storey towers everywhere," he said. "That would be making Melbourne Hong Kong without the view."
A Victorian government spokeswoman said the amendment had involved a "robust" heritage review, public consultation and advice from an independent planning panel.
"The overlay provides protection for places of local heritage significance and certainty for the community and development industry about places of heritage significance in the central city," she said.
Click here to explore the full list of buildings that are receiving heritage protection.
The Morning Edition newsletter is our guide to the day's most important and interesting stories, analysis and insights. Sign up here.
Most Viewed in National
From our partners
Source: Read Full Article