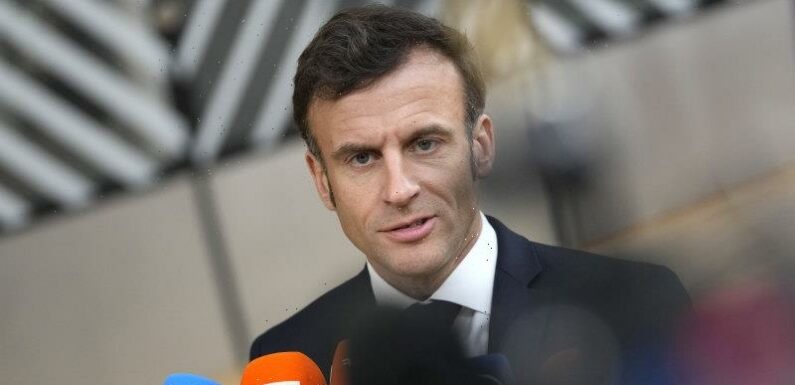 Key points
Increased shelling and attacks are part of a Russian offensive, say governors.
Western countries are willing to provide fighter jets: Zelensky.
Some European promises are still secret, President says.
Moscow claims Western fighter jets would prolong conflict.
Kyiv: French President Emmanuel Macron says he does not rule out sending fighter jets to Ukraine at some point, but that Kyiv needs more immediate military firepower.
His comments came as Ukrainian officials said a fresh Russian offensive was already under way.
President Volodymyr Zelenskiy has long urged Ukraine's allies to send jet fighters and earlier said that several European leaders were ready to supply aircraft.
French President Emmanuel Macron speaks with the media as he arrives for an EU summit in Brussels.Credit:AP
"Europe will be with us until our victory. I've heard it from a number of European leaders…about the readiness to give us the necessary weapons and support, including the aircraft," Zelenskiy told a news conference in Brussels, where he attended a European Union summit.
Such a move would be one of the biggest shifts yet in Western support and Moscow has warned it would escalate and prolong the conflict.
"I exclude absolutely nothing," Macron said on Friday when asked about the possibility of sending jets at the end of a summit of EU leaders.
But Macron said the current priority was to help Ukraine in the weeks and months ahead, and fighter jets could not be delivered in that timeframe and it would take time to train Ukrainian pilots to fly them.
On Thursday, British Prime Minister Rishi Sunak also left open the possibility of fighter jets supply, saying "nothing was off the table".
Emmanuel Macron welcomes Ukrainian President Volodymyr Zelensky to Paris on Thursday.Credit:Bloomberg
Macron said the priority should be on items such as artillery, which had proven to be effective and on which Ukrainian forces were already trained. He said it might be necessary to intensify delivery of such items and Ukraine's allies would examine this possibility in coming days.
As the anniversary of Russia's invasion approaches on February 24, Kyiv has predicted an aggressive onslaught from Moscow aimed at notching territorial gains it can trumpet after months of little movement.
Ukrainian officials in the east, scene of the fiercest fighting, said an anticipated fresh offensive by Moscow had begun.
A Ukrainian soldier on the frontline close to Bakhmut in the Donetsk region.Credit:AP
Asked on Ukrainian television if he agreed it had, Pavlo Krylenko, governor of the eastern Donetsk region, said: "Yes, definitely".
Around eastern towns like Bakhmut, Avdiivka and Vuhledar that have witnessed some of the bloodiest battles of the war, "the enemy's forces and means are escalating there with daily intensity. They are trying to … seize these areas and key cities … to score new successes," he said.
The wider Donbas area of the east, comprised of Donetsk and Luhansk, has been one of Russia's major objectives, and the Kremlin has declared them to be among four annexed territories after referendums decried as shams by the West.
A demolition employee works on a site of a demolished residential building that was heavily damaged during Russian attacks, in Hostomel, Ukraine. Credit:Getty
"Over the past week to 10 days, the frequency of shelling has increased. The daily number of attacks has increased," Luhansk governor Serhiy Haidai told Ukrainian Radio NV on Thursday. "In real terms, this is part of the full-scale offensive planned by the Russians."
He said there was a major new Russian assault around Kreminna, along a northern stretch of the eastern front, but that Moscow's forces were "having no significant success".
Reuters could not independently verify the battlefield accounts.
Moscow warns west against escalation
Kremlin spokesman Dmitry Peskov said it would be Ukrainians who suffered if Britain or other Western countries supplied fighter jets to Kyiv, and that the line between indirect and direct Western involvement in the war was disappearing.
Such actions "lead to an escalation of tension, prolong the conflict and make the conflict more and more painful for Ukraine," Peskov said.
Reuters
Get a note directly from our foreign correspondents on what's making headlines around the world. Sign up for the weekly What in the World newsletter here.
Most Viewed in World
From our partners
Source: Read Full Article