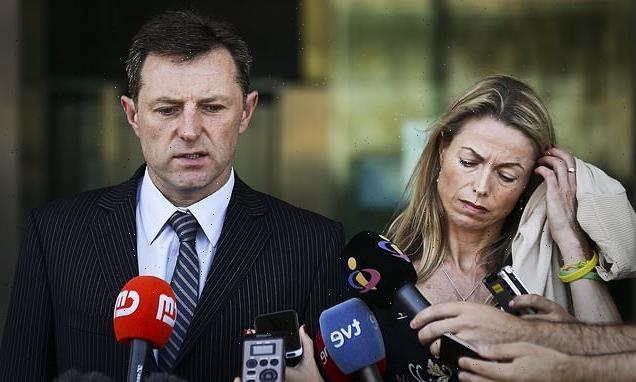 Madeleine McCann's parents LOSE libel legal bid against Portuguese police officer at European Court of Human Rights
Kate and Gerry McCann have lost 14-year legal battle against Goncalo Amaral
Pair had sued Portuguese ex-cop for libel after he published a book suggesting they were involved in the disappearance of daughter Madeleine in 2007
Parents won the initial case but ruling was overturned by Portuguese judges in 2017, prompting them to appeal to the European Court of Human Rights 
European judges today ruled in Amaral's favour, opening door to another appeal 
Madeleine McCann's parents have lost the latest round in a legal battle against a Portuguese ex-police officer who helped investigate their daughter's disappearance.
Kate and Gerry McCann are attempting to sue Goncalo Amaral for suggesting they were involved in the disappearance – claims he published in a book and then repeated in media interviews.
They won the initial case back in 2009 but Amaral appealed, and in 2017 Portuguese judges reversed the initial decision – prompting the McCanns to appeal to judges at the European Court of Human Rights in Strasbourg.
Those judges delivered their verdict today and rejected the appeal. The McCanns now have three months to decide whether to appeal again.
Madeleine McCann's parents, Gerry McCann (R) and Kate McCann (L)
The former police officer's book hammers out a theory that the McCanns, from Rothley, Leicestershire, were responsible for Madeleine's disappearance
Kate and Gerry took action against Goncalo Amaral, 62, for slurs in his book The Truth of the Lie and they have been locked in a bitter courtroom fight ever since it was published in 2008 — a year after Madeleine went missing.
They are appealing to the European Court of Human Rights in the French city of Strasbourg after Portugal's highest court threw out their long-running libel claim against Amaral, who suggested they were involved in her disappearance.
Initially they had won the first round and an injunction was granted to prevent further sales of the book, which was written by Amaral who was taken off the investigation after a 27-year police career. 
He appealed the decision and after years of litigation – which at one point involved him paying the McCanns £429,000 in compensation – won the case in 2017.
Portugal's highest court had ruled he was entitled to 'freedom of expression' but the McCanns launched a last-ditch appeal to the European Court of Human Rights.
They had bbeen waiting ever since for a decision.
Source: Read Full Article