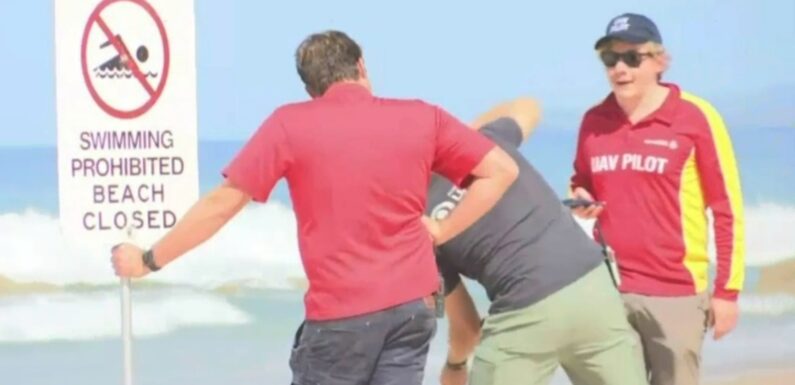 A SURFER is fighting for life after being mauled by a Great White shark on New South Wales' mid-north coast.
The 44-year-old man had been riding the waves at Lighthouse Beach in Port Macquarie on Friday morning when the beast pounced.
He faced a terrifying fight for his life after the shark – believed to be up to 4m long – sunk its teeth into him.
The bloke brawled with the underwater predator for around 30 seconds before other surfers rushed to help him.
He was then dragged to shore where he began to receive first aid.
An emergency doctor who was among the group instructed others to gather sticks so he could fashion a makeshift tourniquet.
The victim has suffered serious injuries to his leg, which span from his hip down to his calf.
A teen girl who witnessed the shark attack unfold told how the man was "frozen" in fear as bystanders rushed to help him.
She told NBN: "His foot ripped off and basically he was bleeding everywhere.
"They were trying to talk to him, he was silent, he was frozen.
Most read in The US Sun
Little House on the Prairie star dead at 78 after brain tumor battle
Two arrested for 'arson' after Britain's wonkiest pub is destroyed in blaze
Major high street retailer 'makes last-minute bid' to save Wilko stores
Putin 'signed own death warrant' by killing Prigozhin warns Brit colonel
"They tried to tie his leg with the leg rope from the surfboard and some sticks to keep it straight."
Paramedics arrived at the scene shortly after 10am and tended to the man at the scene before transporting him for further treatment.
He was rushed to Port Macquarie Base Hospital, where he remains in a critical condition and is undergoing surgery. 
Another eyewitness alleged that the shark had tried to attack for a second time when the gang of surfers rescued the man.
Loren Enfield told how she was in the water on her board when the shark, believed to be a Great White, pounced.
"It was awful, you wouldn't want to see it happen to anyone," she told the Port News. 
"I never want to see it happen again. It was big."
She explained she paddled to shore as fast as she could before alerting a mom and daughter on the beach to phone an ambulance.
Port Macquarie Lifeguards said the Lighthouse Beach and others nearby will now be closed for at least 24 hours.
The Australian Lifeguard Service has put up signs at the beach to warn people to stay out of the water.
Experts will use drones to determine the species and size of the shark that mauled the man, which is currently believed to have been a large Great White.
Mid North Coast Lifeguard Coordinator James Turnham said it had been nearly ten years since a shark attack in the area. 
Read More on The Sun
Big Brother star unrecognisable 22 years after show success
Superdrug shoppers rush to buy discontinued designer perfume for just £9
Lighthouse Beach is not patrolled at this time of year.
An investigation into the incident has been launched by theNSW Department of Primary Industries who are working alongside cops from the Mid North Coast Police District. 

Source: Read Full Article