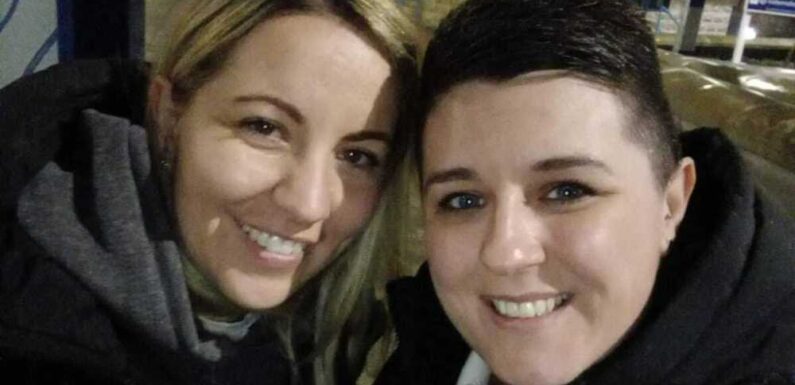 PAEDO teacher Kandice Barber has been BANNED from prison release after being caught meeting up for 'romps' with her new girlfriend.
Barber, 37, was jailed for six years and two months in 2021 after she groomed her student, 15, over text before sleeping with him in a field.
This year, she was granted a temporary prison release and started working at a site building council homes in Hounslow, west London.
But Barber used the privilege, which is there to reintegrate inmates before their release, to meet up with convicted fraudster and lover Jay Delaney.
The Ministry of Justice (MoJ) has since stripped both Barber and Delaney of their temporary freedom after The Sun exposed them.
We exclusively revealed this week that Barber, a mum-of-three, had been cuddling and holding hands with Delaney during their walks to and from work before sneaking off for secret romps.
READ MORE ON BARBER
Paedo teacher having 'secret romps' with convict as pair pose for selfies
My wife slept with a schoolboy – I saw her in jail & turned my back forever
The loved-up pair, who met in prison, were both on release and had asked several times to go on a "day-out" together – which hadn't been allowed.
Despite being warned that their activity should only involve going directly to and from work, the convicts met up daily.
Shamelessly posing for selfies outside London Bridge station and Maidstone East station has meant their love bubble has now been abruptly popped.
A Prison Service spokesperson told The Sun Online: "We are investigating these photographs and the prisoners involved have been suspended from release on temporary licence.
Most read in The Sun
WWE legend dies aged 36 after months off screen as tributes pour in
Moment hotel guests flee after stripping room of everything they could carry
Little House on the Prairie star dead at 78 after brain tumor battle
Two arrested for 'arson' after Britain's wonkiest pub is destroyed in blaze
"Prisoners found breaking the rules will be punished."
It comes after a source revealed their "secret" meet-ups.
The criminals have also been "planning a life together" for when their sentences have ended.
A source told The Sun: "Kandice is only allowed out to go to work – but she and her new partner have been meeting up in secret.
"They've been meeting up on her way to work and her way home.
"It's frustrating that she's still in prison but they're now meeting up for, you know, 'time together' shall we say.
"They've been taking pictures together and talking about their future together."
Girlfriend Delaney was jailed for conning her pals and colleagues into giving her almost £400,000 of their life savings so she could fund her gambling habits.
She bawled her eyes out as the judge gave her four years and eight months after she pleaded guilty to 38 counts in April last year.
Barber, who worked at a school in Princes Risborough, Bucks, first flirted with her schoolboy victim in messages sent during a school assembly.
She also sent him topless snaps.
The mum, from Wendover, Bucks, kissed the boy on the neck and ­whispered "What do you want to do now?" before driving him to a field where they had sex.
The source continued: "Ultimately Kandice is a paedophile and she's in prison for that.
"So why is she allowed to be in love and have a lovely time while she's meant to be paying time for it?
"She groomed this boy. She should pay for it. It's just wrong. She's supposed to be having a hard time. It makes me feel sick.
"Why is she allowed to leave and shag her partner whenever she wants and have a normal life."
Kandice reportedly has shown no remorse for her crimes and still maintains her innocence.
Her loyal ex Danny Barber, supported her through her trial – even after she was sentenced.
Danny, 40, recently told how he decided to stop supporting Kandice when he had a realisation during one of his prison visits.
He explained: "When I took the kids to visit Kan in prison, she'd be smiling and bubbly and happy. Her hair was done. 
"I'd sit there and feel: 'This is wrong. You're smiling and happy in a place we shouldn't be coming to visit you'."
Read More on The Sun
The One Show's new presenter revealed & will be programme's youngest ever host
Urgent warning for Brits travelling to Turkey amid huge sickness outbreak
The MoJ said each temporary licence placement is based on an individual risk-assessment "which takes into account the likelihood of contact with known associations".
They went on to say all prisoners "are expected to travel directly to work and directly back upon completion of the work activity. Anyone who breaks the rules will be punished".

Source: Read Full Article