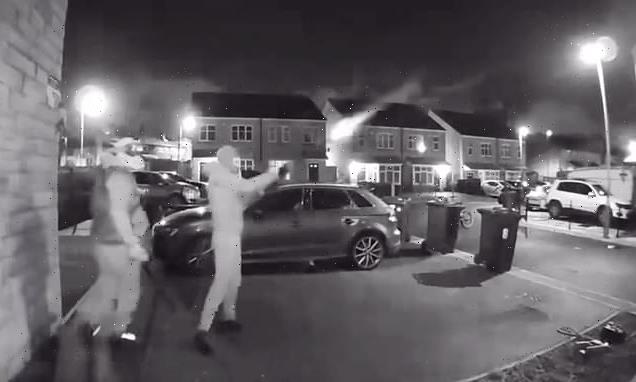 Terrifying moment masked moped thug blasts house with a shotgun as his accomplice smashes door with sledgehammer on residential street in Bradford
Footage was captured outside a door in Bradford, West Yorkshire, on January 11 
Video shows man bashing a door with a sledgehammer and the other with a gun
The man with the shotgun begins shooting at the house and strikes a window
Speaking of the area, one neighbour said: It's scary stuff. We don't sleep much'
This is the terrifying moment a moped thug blasted a house with a shotgun while his frightening accomplice battered a neighbour's door with a sledgehammer. 
The pair were captured on footage from a doorbell while terrorising a street – full of families and young children – in Bradford, West Yorkshire early in the morning on January 11. 
In the video, the first man wearing a motor cycle crash helmet starts moving towards the door with a sledgehammer.
He then aggressively bashes the door with the weapon, apparently attempting to break it down.
Meanwhile, the hooded and masked gunman takes up position behind him and starts breaking and loading his shotgun with cartridges taken from his tracksuit pocket.
A brave woman off camera is heard yelling: 'Get away from the house.'
As the footage continues, the gunman fires the weapon. It is understood that the pellets struck a window but no one was harmed. 
The man in the crash helmet looks unhappy about what happened and starts to argue with the gunman.
Much of what is said in inaudible but the crash-helmeted man said: 'Why did you shoot? You just shot a…'
Two thugs were captured on footage from a doorbell while terrorising a street – full of families and young children – in Bradford, West Yorkshire 
Officers were called to Christopher Court, near Thorp Garth, Idle, at 1:34am when 999 callers raised the alarm on January 11. 
One neighbour, who wished to remain anonymous, said: 'I first heard a loud bang but there were two shots.
'When I heard it I thought it was my car windows gone through.
'There were two guys on bikes hitting the door trying to get into house. A woman shouted out from the upstairs window asking what they were doing.
'One of them pulled out a gun. They didn't seem to care. After it happened a lot of the neighbours came to check on her. We have a really close community around here. We look out for each other.'
They added: 'But we've had other incidents around here, so people have got Ring doorbells.
'There's never a dull moment around here. You hear a bang in the night and you wonder what's next. It's scary stuff. We don't sleep much.'
The street, Christopher Court, was named after Christopher Kershaw, the soldier who died in Afghanistan in 2012.
One local said: 'If his family knew what was happening here, I don't know what they'd think.'
The area was closed for a forensic examination. Detective Chief Inspector Matt Holdsworth, of West Yorkshire Police, said: 'Clearly any firearms discharge will cause some concern in the local community, and I would like to reassure members of the public that we take all firearms incidents extremely seriously and we have extensive enquiries underway to identify those responsible.
'Neighbourhood Patrols have been stepped up in the area to provide reassurance.'
The footage has caused horror among locals in the city, which has been crowned the European City of Culture.
One posted: 'Guns are getting daft in the UK now. Empty businesses everywhere all night long and they want to rob defenseless families with guns and knives while they're asleep leaving people and young children with ptsd for the rest of there lives. Absolute cowards.'
Source: Read Full Article