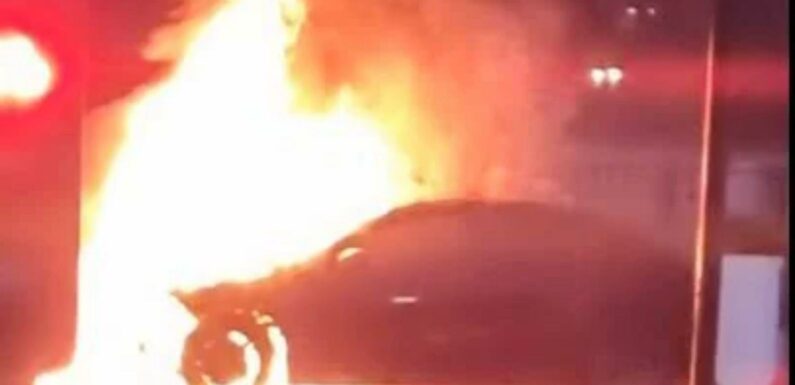 THIS is the moment a car was engulfed in flames outside Buckingham Palace.
Dramatic footage shows the inferno completely destroy the car after it smashed into a barrier outside the London landmark.
Onlookers frantically phoned emergency services when the car fire took hold on Saturday.
Cops said the blaze is believed to have started after the car smashed into a barrier near the bike lane.
Police said the fire was not being treated as a terror incident.
In the clip, firefighters can be seen battling the flames as black smoke billows from the black car.
Read more on UK news
Mum ordered 3 kids to leave house before setting it on fire while still inside
Jamie & Becky Vardy's gym at £2.5m mansion catches FIRE causing 'severe damage'
Emergency services can also be heard yelling for cyclists to stay away from the flaming car.
The driver, a man in his 20s, escaped without serious injuries.
Hotel worker Oliver Aladi, 21, watched as fire crews battled the flames and said he saw the front of the car had smashed into a barrier by the bike lane.   
He told MailOnline: "The ground was pretty wet so maybe it slipped.
Most read in The Sun
BGT in bitter pay row as Amanda Holden and Alesha Dixon won't sign contracts
BOMB threat on Ryanair flight with more than 190 passengers onboard
National Grid to pay customers to sit in the dark today – see if you are eligible
Second home owners have turned our Happy Valley town into a woke nightmare
"I think it was a Mercedes or BMW. I didn't see anybody being injured or being treated. 
"I don't know if that's what caused the fire, by the time I got there it was already up in flames."
Oliver added: "The police weren't treating it like a terror incident."
The Met Police said they had been called to the scene about 7.20am on Saturday, January 21.
They said: "A car collided with railings by Canada Gate, in The Mall SW1. 
"London Fire Brigade were requested after the car caught fire. 
"Road closures were put in place. The driver, a man aged in his 20s, suffered no serious injuries. 
"The incident is not being treated as suspicious."
Source: Read Full Article