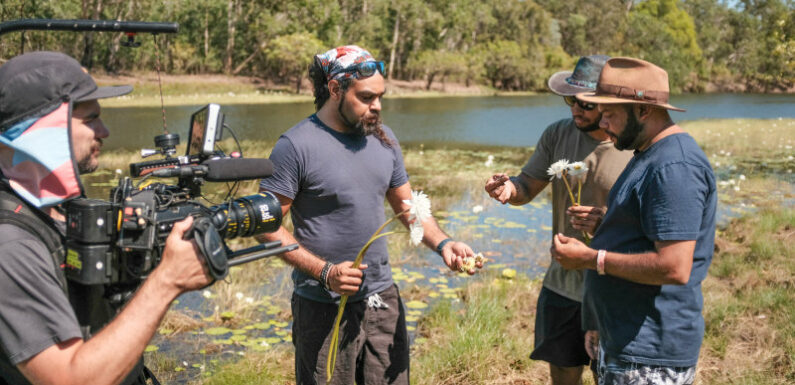 Save articles for later
Add articles to your saved list and come back to them any time.
On a scale of one to 10, Tiwi man Jaxon De Santis and Warlpiri-Jawoyn man Justin Grant say they knew roughly zero about the Indigenous Voice to Parliament when it took centre stage in Australian politics last year.
Describing themselves as "not politically oriented", they felt uncertain about how to vote in – or even talk about – the pending referendum.
From left: Jaxon De Santis, Laurens Goud and Justin Grant journeyed across various communities in the NT exploring what local people in remote areas thought of the Voice proposal.
But being from the Northern Territory, where Indigenous people make up more than 30 per cent of the population (compared with just over 3 per cent nationally), they also recognised that the result – either way – would have serious, real-world consequences for their communities and others in the Top End.
So aspiring schoolteacher and musician De Santis, 31, and actor, writer and film director Grant, 33, set out to find for themselves what people in remote Aboriginal communities thought about the idea of a Voice. They hoped it would help them work out how to feel and think about it, too.
"There are lots of people like us in Australia that are not too sure what the attitudes towards the referendum are from these communities," says De Santis, who grew up in Darwin, in communities in east and west Arnhem Land and the Tiwi Islands.
A camera crew, co-directed by Melbourne filmmaker Laurens Goud, tagged along, documenting opinions about the Voice from people in communities from the Barunga, Katherine, Kalkarindji, Yellow Water (Ngurrungurrudjba) in Kakadu, Nhulunbuy and Pirlangimpi.

The team visited the community at Yellow Water (Ngurrungurrudjba) for the documentary.
"We start from a position that it is OK to not understand enough to have a strong position on the referendum," says Goud, who will produce the documentary, titled Our Voice, Our Heart, to launch at the Garma Festival in East Arnhem Land in early August.
"It's unrealistic to just expect everybody to go, 'Oh, that sounds great. Yep, we're all on board.'" he says. "Anything that sounds good comes with layers of doubt and history."
Speaking from the roadside in Arnhem Land, the team say a knowledge gap between urban Australians and remote communities needed to be addressed ahead of the referendum, especially given the Territory is, they say, statistically insignificant in the final count.
A successful referendum requires the support of the majority of Australians and a majority of voters in a majority of states, so at least four. But the NT is not a state, so its votes – along with the ACT and the Jarvis Bay Territory – are only counted in the national majority. And the NT only has about 250,000 people, just 1 per cent of the Australian population.
First Nations communities in the NT experience overall unemployment rates of about 21 per cent, compared with 3.3 per cent for non-Indigenous Territorians. There are also extraordinary disparities in health and housing, and gaps in Indigenous life expectancy with an average of 66.3 years for males and 70 years for females in the NT, compared with 78 years for males and 82.7 years respectively for other Territorians.
"We want to bridge the gap between what is thought, known and understood in majority non-Indigenous Australian states, and the significant Indigenous population in the Northern Territory who will be most affected [by the referendum result]," Grant says.
Grant and De Santis were not surprised to hear different problems in different communities, stressing that each contains unique traditions and cultural practices. This informed how they entered and engaged with community, too.
"It's not like everybody is going to accept me and Jaxon going into every single community. We want to show that difference as well. Not all Aboriginal people are the same and just because we're Aboriginal doesn't mean we get accepted into every community. There are protocols and stuff that we go through. And the voices within each community are different. These voices have different meanings and power to their tribes," Grant says.
"When you walk into a community, you don't ask, 'On behalf of Australia, what do you think Aboriginal people think about this?' Because they won't give you an answer. They'll say, 'No, we'll only talk on behalf of our people.'"
This cultural regard sometimes included long off-camera conversations, often not approaching the topic of the Voice head-on.
"There's people that were obviously aware and understood what the referendum was and what its intentions were, and the effects of whether Australia says yes or no. But the thing that we asked everybody was what they consider a better future for everybody, and the common answer we got was just all about the next generation, in teaching and learning. Passing on the knowledge, the stories, the traditions, the customs, the protocols," De Santis says.
Community concerns about the Voice included who would be speaking on behalf of the tribes, if an active Voice body could last and how it would make its presence felt.
Many people considered it to be a "great idea", but wanted to know if it was actually going to be sustainable, Grant says.
"When you talk about it, they ask 'Is it going to be different this time or is it just another laid-back approach that goes away at the first sign of trouble?' And that's something I asked myself too."
So what did Grant and De Santis take away from their journey?
"I feel more confident when I talk to people about it, I guess. I'm not saying I'm absolutely savvy with it all now, but certainly, I'm in a far more comfortable and confident position than I was previously," De Santis says.
Grant says the project had given him more of an idea of what direction communities want, but he's also "a little bit" concerned.
"So many people are asking me how I am going to vote and if I don't know – if we don't have a clear understanding of the issues – then how are the millions of Australians living in the cities going to know how to vote with meaning and purpose?"
The Morning Edition newsletter is our guide to the day's most important and interesting stories, analysis and insights. Sign up here.
Most Viewed in National
From our partners
Source: Read Full Article