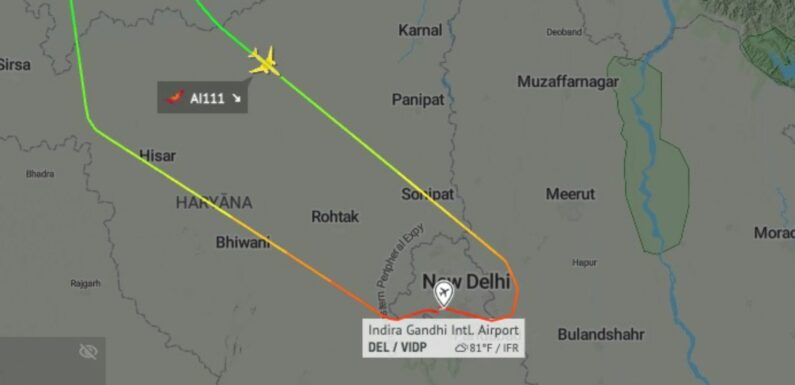 A PLANE was forced to land after a passenger pulled a flight attendant's hair before brawling with staff, it was reported.
The Air India plane was on its way from Delhi to London but had to turn around when the passenger became unruly, about 15 minutes after it took-off at 6.35am.
After pulling the attendant's hair the man began scrapping with other crew members, forcing the captain to turn back to Delhi's Indira Gandhi International Airport, the Hindustan Times reports.
The airline said the man was given "given several warnings" but continued with his "aggressive behaviour" on board flight AI 111.
When the Boeing 787 landed, airport security took the man off the flight and Air India said police are now investigating.
The crew who were attacked by the passenger are now being supported by the airline, who said that "safety, security and dignity" of those on board its planes vital. 
READ MORE ON WORLD NEWS
Something is wrong with this video of a TV newsreader – can you see what?
Heartstopping moment volcano hunters run for cover from falling molten ash
Air India confirmed said the flight took again at 2.24pm, local time. 
"Not heeding to verbal and written warnings, the passenger continued with unruly behaviour including causing physical harm to two of the cabin crew members," said the airline.
"The pilot in command decided to return to Delhi and the passenger was handed over to the security personnel upon landing.
"Safety, security and dignity of all on board is important to us at Air India."
Most read in The Sun
Nicola Bulley police divers return to river months after mum's death
Tragedy as footballer dies suddenly leaving his family & club devastated
Huge Eighties supergroup 'to reform' after 20 years for Eurovision Song Contest
Gritty BBC One drama set to return for second series
It comes after a student was arrested after allegedly urinating on a sleeping passenger in business class on a flight.
US college student Aryan Vohra, a 21-year-old Indian national, was on an American Airlines flight from New York to Delhi.
He was met by police when flight AA 292 from JFK landed at Indira Gandhi International Airport on Saturday evening local time.
It is thought he had been travelling to India to attend his sister's wedding.
American Airlines said in a statement that Mr Vohra was "heavily intoxicated" and had ignored instructions from the crew.
According to the official complaint filed by the airline to the Directorate General of Civil Aviation, seen by The Hindu, female passenger complained that he was leaning on her.
It's also claimed he nearly sat on an infant on a different seat before the mum pushed him away.
He is then said to have urinated on a sleeping fellow passenger.
American Airlines cancelled Mr Vohra's return ticket and have barred him from flying with the airline.
Two similar incidents had been reported aboard an Air India flight each in November and December.
Read More on The Sun
Urgent warning for 150,000 grandparents missing out on £6,875 pension boost
Parents are scrambling to get their hands on kids' Croc dupes from Home Bargains
The airline received heavy fines after it did not report in the incidents to the regulatory agencies.
Source: Read Full Article