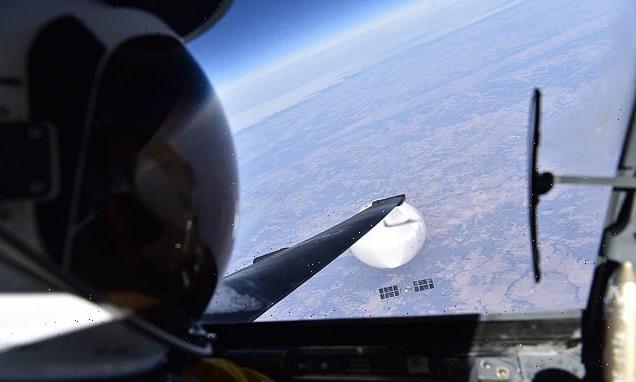 Chinese spy balloon selfie: Pentagon releases U2 pilot's cockpit picture of Beijing's surveillance craft as it flew over United States sparking crisis for Biden before he ordered it shot down over Atlantic
A photo of the spy balloon from a previously unseen angle has been released
The Chinese spy craft was shot down off the coast of South Carolina this month 
The balloon is thought to have achieved altitudes of 60 to 70,000 feet 
The Pentagon has released a selfie taken by the pilot of a US Air Force U2S Dragon Lady who was surveilling the Chinese spy balloon as it traveled across American airspace earlier this month. 
During the balloon's flight, it was regularly followed by US spy planes before being  shot down over the South Carolina coastline on February 4. 
Prior to the picture's release, CNN reported that the selfie had achieved 'legendary status' within the US-Canadian North American Aerospace Defense Command and the Pentagon. 
The photo shows the shadow cast by the U2 plane across the top of the balloon's surface. Officials had said that the spy craft had reached altitudes of 60 to 70,000 feet during its mission. 
According to a report from The Drive, the U2S Dragon Lady is the only plane in the US arsenal that could achieve the necessary height to take a photo from above the balloon.  
The photo taken from the cockpit of a U2 spy plane shows the surface of the balloon from a previously unseen angle 
Since February 4, four objects have been shot down including the Chinese spy balloon, and then three 'UFOs'
State Department officials said that US 'fly-bys' had determined that the balloon was 'capable of conducting signals intelligence collection operations.' 
The Navy, Coast Guard and FBI personnel are believed to have collected all of the balloon debris off the ocean floor, which included key equipment from the payload that could reveal what information it was able to monitor and collect.
US Northern Command said in a statement that the recovery operations ended Thursday and the final pieces are on their way to the FBI lab in Virginia for analysis. It said air and maritime restrictions off South Carolina have been lifted.
The announcement capped three dramatic weeks that saw U.S. fighter jets shoot down four airborne objects – the Chinese balloon on February 4 and three much smaller objects about a week later over Canada, Alaska and Lake Huron.
The Chinese spy balloon drifts to the ocean after being shot down off the coast of South Carolina on February 4
U.S. Navy shows sailors assigned to Explosive Ordnance Disposal Group 2 recovering a high-altitude surveillance balloon off the coast of Myrtle Beach, South Carolina
Sailors assigned to Explosive Ordnance Disposal Group 2 recovering a high-altitude surveillance balloon off the coast of Myrtle Beach, South Carolina earlier this month
The remnants of the downed balloon from earlier this month is packed away for investigation
Source: Read Full Article