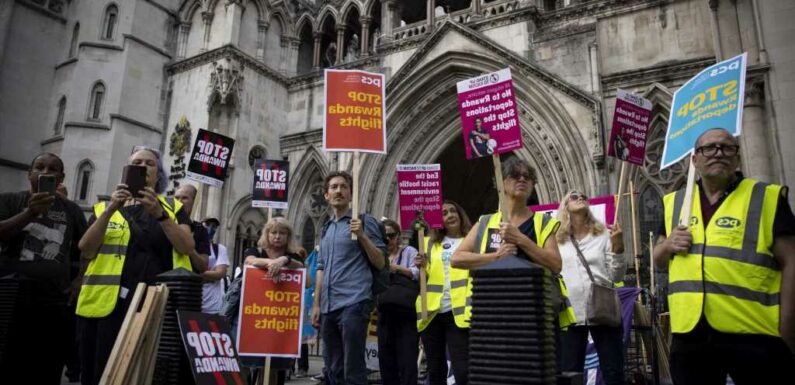 THE Rwanda deportation scheme faces even MORE delays after activists were given permission today to take the government to court again.
In December a group of charities challenged plans by the Home Office to fly illegal migrants to Rwanda for processing and settlement.
The High Court ruled the scheme as legal, but today individual claimants and the charity Asylum Aid were granted permission to challenge the decision at the Court of Appeal.
No date for a hearing has been set yet.
Ministers were widely expecting the High Court ruling to be challenged by left wing activists.
But they will continue fighting in the courts until deportation flights can finally take off.
The government insists the £140m Rwanda policy is vital to stopping the small boats crisis in the Channel.
Most read in Politics
Boris Johnson to tell all in bombshell memoir about his time in office
Rail unions offered better pay deal to stop strikes, Transport Sec confirms
Fury at Starmer vow to let patients bypass GPs & see a specialist straight away
Rishi Sunak to put strikes bill before Commons as more industrial unrest hits UK
But charities argue it's cruel and unfair.
Following this afternoon's ruling, Suella Braverman pledged her commitment to sending migrants to Kigali as soon as possible.
However, the Home Secretary refused to rubber stamp a take off date.
This month Rishi Sunak vowed to end the small boats crisis plaguing Britain's migration system.
READ MORE POLITICS
Rishi Sunak to put strikes bill before Commons as more industrial unrest hits UK
PM to announce that cops will be able to tackle climate protesters before demos
He promised to clear the ballooning asylum backlog by the end of the year and lock up more evil people smugglers.
In March the PM will also meet Emmanuel Macron in Paris for crunch talks on the issue.
Most read in The Sun
Harry 'felt less important than Wills when he was given fewer sausages'
Furious Dancing on Ice fans threaten to call Ofcom over Ekin-Su's outfit
Shocking moment fan KICKSAaron Ramsdale after Arsenal beat Tottenham
I got a barbed wire tattoo…people say it looks like a hair transplant line
More than 40,000 migrants have now waited between one and three years for a decision on their asylum claim, costing the taxpayer millions and clogging up the system.
Meanwhile, in 2022 more than 44,000 came to Britain in small boats via the Channel.
Source: Read Full Article