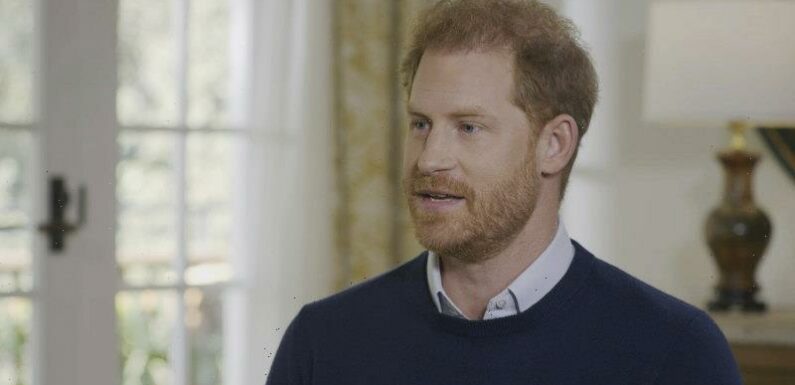 London: Prince Harry has further exacerbated a war of words within the British royal family, accusing them of being "complicit" in the "pain and suffering" inflicted on his wife, alleging his step-mother leaked stories to the press and claiming his father had not been ready for parenthood.
In dramatic 90-minute interview on British television to plug his memoir, the Duke of Sussex claimed his family members had helped to "trash" his and wife Meghan's reputations, forcing them to move to California two years ago, and claimed they had shown "no willingness to reconcile".
Britain's Prince Harry speaking during an interview with ITV's Tom Bradby for the programme Harry: The Interview.Credit:AP
But Harry insisted that he did not believe the royal family was racist and claimed he had never suggested they were. He told ITV that when he and his wife revealed in their Oprah Winfrey interview that a member of the family had raised concerns about the colour of their unborn son's skin they were not accusing them of racism, instead suggesting they were guilty of an "unconscious bias".
Detailing the breakdown of his relationship with his brother, Harry said the Prince of Wales had voiced concerns about him marrying the Duchess, and claimed William and his wife, Catherine, had not made Meghan feel welcome "from the get-go" and had stereotyped her as an "American, actress, divorced, bi-racial".
The 38-year-old saved his biggest criticism for the British media, describing it as a constant "antagonist" in his life, while alleging the tabloids wanted to "create as much conflict as possible".
"The saddest part of that is certain members of my family and the people that work for them are complicit in that conflict," he told interviewer Tom Bradby. He said he had "managed to make peace over this time with a lot of things that have happened", but added that "doesn't mean that I'm just gonna let it go", as he vowed to campaign media reform.
He criticised past media interest in his recreational drug taking, including cocaine, suggesting the public should have been more interested in the relationship between "the institution" of the monarchy and the tabloid media.
While sparing his father, the King, from the worst of his attacks, Harry was highly critical of his step-mother, Queen Consort Camilla, accusing her of running a "campaign" aimed at marrying his father and saying his interests were "sacrificed on her PR altar".
While denying his comments were "scathing", he accused Camilla of leaking private conversations to the press and said members of his family have been "in bed with the devil" simply to rehabilitate their own image.
"If you need to do that, or you want to do that… That's up to you. But the moment that that rehabilitation comes at the detriment of others… me… other members of my family, then that's where I draw the line."
He also took another thinly veiled swipe by suggesting Camilla, who has campaigned on domestic violence issues, had remained quiet following comments made recently about his wife by Jeremy Clarkson, the former Top Gear star.
Much of Harry's strongest criticism was directed at his step-mother, Camilla.Credit:AP
Harry said it was "horrific", "hurtful" and "cruel" towards his wife, and it had also encouraged "other people around the UK and around the world, men particularly, to go and think that it's acceptable to treat women that way".
"But the silence is deafening, to put it mildly. So, I think we've gone from this being like, you know, just my personal whatever you want to call it to way, way, way bigger than us."
He spoke at length of his personal struggles and grief following the death of his mother, Diana, in 1997 and revealed he asked to see photos and the secret government file of the fatal car crash in Paris.
"I saw the photographs of the reflection of all the paparazzi in the window at the same time," he said. "I was, I think I, at that point, I was looking for, I was looking for evidence that it was after that it actually happened, that it was true."
Harry voiced sections of his book for the interview, with one piece questioning whether his father had the "patience" and "time" for parenthood.
"He'd always given an air of not being quite ready for parenthood: the responsibilities, the patience, the time. Even he, though a proud man, would have admitted as much. But single parenthood? Pa was never made for that. To be fair, he tried," he said.
He said he "100 per cent" believed that reconciliation with his father and brother was possible, but said Buckingham Palace seemed to believe it was "better to keep us somehow as the villains".
"I genuinely believe, and I hope, that reconciliation between my family and us will have a ripple effect across the entire world. Maybe that's lofty, maybe that's naive, whatever. But I genuinely feel that."
However he said he would not tolerate any conversations about reconciliation being leaked to the media, and insisted what he had to say his family would be done in private.
Get a note direct from our foreign correspondents on what's making headlines around the world. Sign up for the weekly What in the World newsletter here.
Most Viewed in World
From our partners
Source: Read Full Article