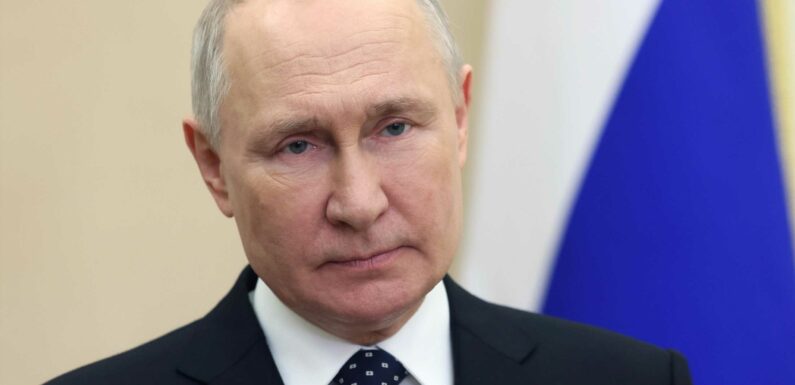 UKRAINIAN drone strikes are edging ever deeper into Russia as Vladimir Putin hides in a forest with his gymnast girlfriend.
The attacks come as Volodymyr Zelensky has vowed a massive Spring offensive in a bid to liberate areas of Ukraine still occupied by the Russian tyrant's forces.
From the early days when they were used to hold up Russian forces near Kyiv, Ukraine has employed drones to deadly effect throughout the war.
But as well as knocking out Russian tanks with spectacular effect, Ukraine appears to using drones to take the battle into the heart of its enemy's territory.
In the latest attack, a Russian airbase was rocked by massive explosions overnight following a suspected Ukrainian drone strike.
Thick black smoke was seen billowing from the base for Putin's Su-34 jets in the port town of Yeysk, just 26 miles from Ukraine across the Sea of Azov.
READ MORE ON UKRAINE WAR
Ukrainian heroes will pummel Putin's thugs with their own tanks
Elite Russian female bodyguards open fire in training to protect Putin's pals
The attack came after a suspected Ukrainian drone was shot down as it attempted to take out a gas facility just 60 miles from the Russian capital Moscow on Tuesday
The drone was identified a Ukrainian-made UJ-22, which can carry 44 pounds of explosives up 500 miles.
On the same say, a drone also hit an oil refinery in the southern port of Tuapse in Russia's Krasnodar region.
Ukrainian drones also appeared to sow panic in St Petersburg as the airspace around Russia's second largest city was closed.
Most read in The Sun
Harry and Meghan evicted from Frogmore Cottage by King Charles after Spare memoir
Amy Nuttall caught cheating hubby when he bought sexy lingerie
Constance Marten and lover arrested over 'manslaughter'
Woman found 'murdered' is missing mum who had not been seen since before Xmas
Passenger planes from the city's Pulkovo Airport were grounded on the orders of the military after reports of a mysterious object overhead.
Fighter jets were put up over the city which has not so far faced attack in the war, and is 550 miles from the nearest point of Ukraine.
The suspected drone was spotted heading towards the Gulf of Finland.
Four small drones also targeted the city of Belgorod, including one that reportedly flew into an apartment window.
Ukraine rarely claims responsibility for attacks inside Russia but usually issues a cryptic hint that its forces were behind strikes.
This time Kyiv's defence ministry said: "The Earth is round – discovery made by Galileo.
"Astronomy was not studied in Kremlin, giving preference to court astrologers.
"If it was, they would know: If something is launched into other countries' airspace, sooner or later unknown flying objects will return to departure point."
As well as drone attacks, Russia has also had to contend with mysterious explosions on oil refineries and shopping malls amid rumours of Ukrainian sabotage.
It's even been claimed these are the work of the CIA and NATO ally spies.
In the face of the drone attacks, Mad Vlad appears to have scuttled off to a live with his gymnast girlfriend in a luxurious mansion near Moscow.
The stunning 13,000 square feet property on Lake Valdai, which was built entirely from wood, in the style of a Russian dacha is reportedly home to Olympic rhythmic gymnast Alina Kabaeva, 39.
Meanwhile, Zelensky has vowed to take the battle to the Russians this Spring.
Read More on The Sun
Art Attack's Neil Buchanan unrecognisable after quitting TV for rock band
New winter sun hotspot 5 hours from UK with 27C heat where TUI is launching hols
"We are preparing for our warriors to resume actions to liberate our land," he said after meeting his military chiefs.
"We keep in mind this just goal of ours, and every day we are getting closer to its fulfilment. Ukraine will be free. All of Ukraine."

Source: Read Full Article