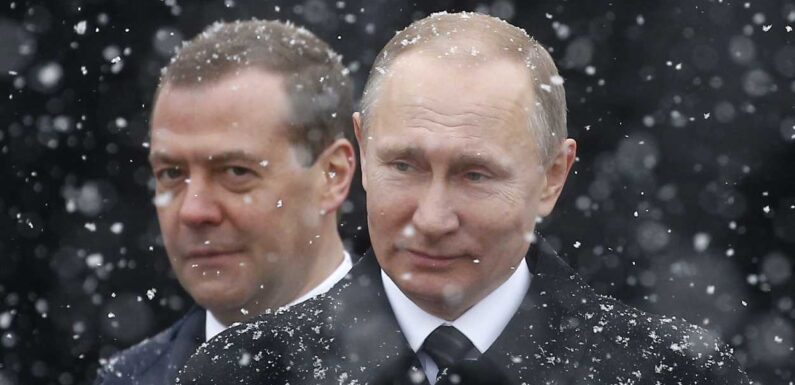 VLADIMIR Putin's closest ally has threatened to unleash World War 3 on the West if UK sends troops on to Ukrainian soil.
Former Russian President Dmitry Medvedev said on Sunday that any Brit soldiers training soldiers inside Ukraine would be legitimate targets for Russian forces and "ruthlessly destroyed".
The Kremlin mouthpiece's furious claims were made after British defence secretary Grant Shapps said he was considering deploying UK troops to train soldiers inside Ukraine.
Medvedev is seen as Vlad's 'yes man' and often makes blood curdling threats aimed at Nato states.
Now, the lap dog's latest chilling warning is that the West's actions are bringing the world to the brink of nuclear war.
He directed his fury at Shapps who told The Sunday Telegraph that he wants to "eventually" deploy military instructors to Ukraine in addition to training Ukrainian troops in Britain.
In a post on Telegram, Medvedev fumed: "The number of leading idiots in Nato countries is growing.
"One newly minted cretin – the British Minister of Defence – decided to transfer English training courses for Ukrainian soldiers to the territory of Ukraine itself.
"These idiots are actively pushing us towards a Third World War."
He continued: "[This will] turn their instructors into a legal target for our armed forces."
Most read in The Sun
ROAD RAGE FURY
Foul-mouthed motorist unmasked after hurling horrific abuse at driver
SICKO FANS
Cops arrest two after football yobs 'taunt' fans with Bradley Lowery pic
HELL STATE
Torture, beheadings & gang-rapes: how rural region became militant-run warzone
hot water
Holly Willoughby 'told not to wear a bra' by kids TV bosses in new misogyny row
"Understanding perfectly well that they will be ruthlessly destroyed. And not as mercenaries, but namely as British Nato specialists."
The presidential spokesperson also warned that German factories producing Taurus missiles would also be a target should they supply Kyiv.
Moscow fears that the German-made missiles could strike within Russian territory and help cut off its supply to its army.
Rishi Sunak later clarified the defence secretary's comments and shut down speculation that Brit soldiers could enter the war-torn region imminently.
He said today: "What the Defence Secretary was saying was that it might well be possible one day in the future for us to do some of that training in Ukraine.
"That's something for the long term, not the here and now, there are no British soldiers that will be sent to fight in the current conflict.
More than 20,000 recruits from Ukraine have received training in the UK since the start of 2022.
However, Nato members have avoided training programmes in Ukraine due to the risk of personnel being targeted by Russia.
Shapps said he has spoken with Army chiefs about moving "more training" into Ukraine and called on British defence firms to set up shop in the country.
The defence minister also revealed he had spoken to Ukrainian president Vlodymyr Zelensky about Britain playing a more active role in the Black Sea, where Russia has targeted cargo ships.
"Britain is a naval nation so we can help and we can advise, particularly since the water is international water," he said.
"It's important we don't allow a situation to establish by default that somehow international shipping isn't allowed in that water.
"There's a lot of places where Britain can help advise," he said cryptically.
He said Britain is also looking for ways to help Ukraine get in shape for membership of Nato.
Earlier this month, Medvedev issued a chilling nuclear threat to the United States on the anniversary of the September 11 terrorist attacks.
He wrote on Telegram: "Terrorists will again carry out an attack in the style of September 11, 2001, but with an atomic or biological component.
"Or even worse: one of the leaders of nuclear countries will lose their nerve, and he will make an emotional decision to use weapons of mass destruction."
He ended his ominous message with: "And then that would be it. The end of the ball game.
"There will be only to collect money for a new monument in the neighbourhood of Ground Zero. At best."
In July, he threatened that World War 3 was getting closer as Nato leaders signed a new security package for Ukraine.
READ MORE SUN STORIES
SHUTTERS DOWN:
Full list of outlets closing stores in October – is one shutting near you?
GEORDIE PHWOAR
Geordie Shore's Marnie Simpson goes braless in see-through lace top
Medvedev told an audience in Moscow that the West was to blame for taking the world to the brink of Armageddon.
Earlier this year, he also threatened to unleash nuclear war on the collective West if Russia is defeated in Ukraine.

Source: Read Full Article