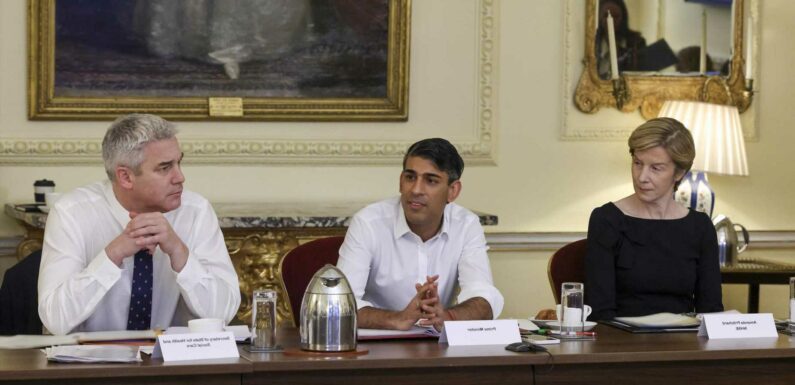 PRIME Minister Rishi Sunak urged health chiefs to take "bold and radical" action yesterday to end the winter crisis in the NHS.
At an emergency Downing Street summit he told medics they had to abandon a "business-as-usual mindset" as the health service creaks under the pressure of flu and Covid.
The PM was at the Saturday meeting alongside NHS England chief executive Amanda Pritchard and Health Secretary Steve Barclay.
Senior doctors again warned the NHS is on a knife-edge, with many A&E units struggling.
Upcoming strikes by nurses, ambulance staff and, potentially, junior doctors will only make matters worse, they said.
Mr Sunak discussed how to get hospital bed blockers into community care faster, slash A&E waiting times and make GP services more effective.
READ MORE ON NHS
PM summons NHS chiefs for crisis talks after worst ever A&E ambulance delays
Junior doctors threaten 3 days of strikes in row over pay amid NHS crisis
Insiders said he was particularly keen on using new tech.
The PM said: "During the pandemic, we had to bring boldness and radicalism to how we did things.
"We need that same bold and radical approach now because a business-as-usual mindset won't fix the challenges we face."
Matthew Taylor, chief exec of the NHS Confederation, said there are no "silver bullets" to solve the crisis after "decades of underinvestment".
Most read in The Sun
Corrie star and Strictly winner takes Aldi job a year after soap exit
Man Utd to be investigated after fans aim homophobic chant at Frank Lampard
Selfish partygoers turned our town into 'Little Ibiza'… we can't sleep
Woman shares clever trick to dry clothes with no tumble dryer in under two hours
Lib Dem health spokeswoman Daisy Cooper urged Mr Sunak to declare a "national critical incident".
Source: Read Full Article