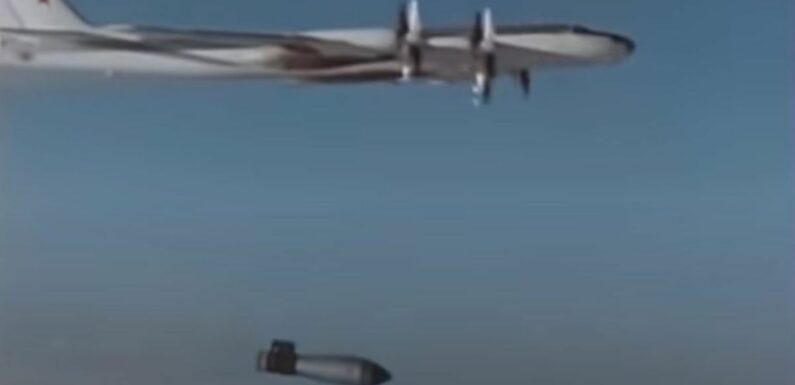 In the wake of one of Russian president Vladimir Putin's closest allies issuing a threat of nuclear catastrophe earlier this week, the world has been reminded of the country's infamous Tsar Bomba – which had the potential to completely destroy a major city and kill millions.
The mega-weapon, which had 3,300 times more energy than the atomic bomb dropped on Hiroshima, Japan in 1945 was detonated over a remote Russian island in 1961 as part of a Soviet test of its arsenal.
Footage – which was was declassified decades later in 2020 – showed the 27-ton, 26ft long nuke dubbed the "King of Bombs" cause a mushroom cloud of dust to rise 42 miles high and buildings to flatten up to 24 miles away.
READ MORE: Putin's closest ally warns of radioactive rubble after worldwide 'nuclear apocalypse'
Measurements showed the yield of the blast was the equivalent of 50million tons of TNT – enough to kill 5.8m people and injure 3.4m more if it was dropped on Central London, according to Nuke Map.
Although Russia now has a staggering stockpile of more than 6,000 nuclear warheads, thankfully none are the size of Tsar Bomba, which was designed to show the world it was on par with the US in weaponry development.
In fact, the bomb's designer Andrei Sakharov went on to win the Nobel Peace Prize after campaigning against nuclear proliferation after becoming so alarmed by his own creation.
Last week, meanwhile, Putin ordered the test-firing of a Satan-2 intercontinental ballistic missile and made a threat to the West by vowing to boost his "nuclear triad".
To stay up to date with all the latest news, make sure you sign up to one of our newsletters here.
The leader caused further concern by suspending his country's participation in the new START treaty with the US – a nuclear arms reduction treaty, which came into force in 2011.
UN chief Antonio Guterres responded by urging Putin to "step back from the brink" of nuclear conflict.
It comes after Putin crony Dmitry Medvedev warned again of a nuclear "apocalypse" if the West continues to provide arms to Ukraine.
Medvedev, a former Russian president and prime minister himself, dished out the chilling warning as he said the nuclear rubble would "emit radiation" for centuries to come.
He claimed that the West wanted to make Ukraine a "new anti-Russian Frankenstein" in his frank chat with Russian news outlet Izvestia.
Medvedev has previously used nuclear rhetoric and only last week also said: "If the US wants Russia's defeat, we have the right to defend ourselves with any weapons, including nuclear."
And last week he warned of a World War 3 "global conflict" as he issued another nuclear threat ahead of the one-year anniversary of the war in Ukraine.
READ NEXT:
Man's Tenerife holiday 'nightmare' after minibus ploughs into him in horror smash

Couple suffer horror injuries after plunging off waterfall on their first date

Brit pensioner's holiday from hell after getting deadly infection 'from Airbnb hot tub'
Source: Read Full Article