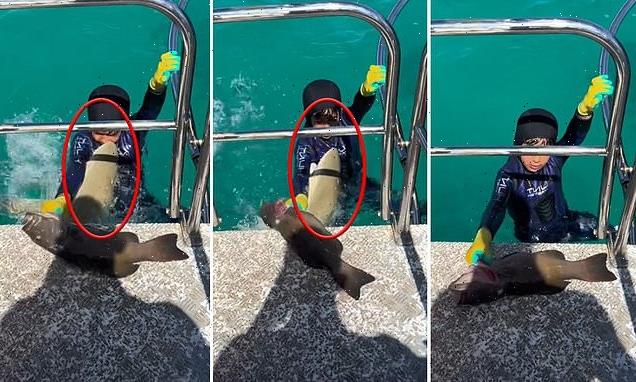 Freakish moment a shark 'lunges' at a boy, 8, as he climbs back onboard a boat with a coral trout on the Great Barrier Reef
 Shark lunges at boy climbing onto boat after spearfishing
 Predator was attempting to get the fish boy had killed 
 Boy is later shown unharmed from the close encounter
An eight-year-old boy has appeared to have a shockingly close call with a shark as he climbed back on a boat after spearfishing. 
In a viral TikTok video – which has been questioned by some on social media – a man asks the boy, Manni, what he has brought back from the ocean after fishing around Lady Musgrave Island, on central Queensland's coast.
Manni, who is holding onto a ladder at the rear of the boat, hoists a large fish onto the diving platfrom and starts to say something about a shark.
Young spearfisher Manni hoists his fish up onto the diving platform behind the boat
The shark then suddenly appears, lunging to take the fish out of Manni's hands, but ends up snapping at thin air with its head hitting against the boy. 
According to the video's maker, Manni emerged unhurt from the close encounter.
'It just felt like a little bit, it hurt a little bit on the chest but that's it,' Manni told Nine News. 
When asked if the random attack would stop him from diving, Manni said: 'I'm going back in'.
Not everyone was convinced the video was legitimate however.
Just moments after getting the fish onto the boat a shark appears out of nowhere to lunge at Manni
'Looks like the shark is dead and somebody is pushing it on top of the kid,' a sceptic wrote in comments.
A sequel to the video shows Manni showing off a fish he speared, although it appears different from the one he previously threw on the boat. 
Certainly if he had any ill effects from the shark encounter Manni isn't showing them as he hoists a big fish with a wide grin.
Despite what becomes a very in-your-face encounter with the predator Manni emerges unharmed
The videomaker isn't overly impressed however.
'That's crap, the sh*ttest fish in the ocean, why did you even shoot it?' the man asks.
'Because it kept swimming up to me, it didn't stop it was dumb was just dumb to keep on swimming up to me like 'come shoot me' so I just shot it,' Manni replies.
'You are going to be eating it yourself,' the film-maker says.
In comments he later revealed the milk fish was given to a local. 
Daily Mail Australia has approached the video maker for further comment. 
Source: Read Full Article