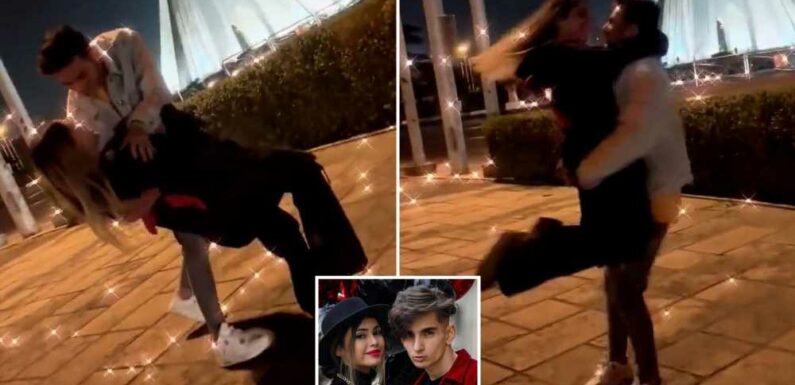 A YOUNG Iranian couple have been sentenced to a decade in jail after a video of them dancing in public was posted online.
The two lovebirds were arrested on November 10 after authorities saw the clips and have since been accused of heinous crimes against the Iranian government.
Astiyazh Haghighi, 21, and Amir Mohammad Ahmadi, 22, were each given 10 and a half years in prison for "corruption on earth and incitement to prostitution."
The video shows the couple embracing each other, with city buildings glowing in the background.
They then spin before Amir dips Astiyazh in a daring dance move, sharing an adorable moment.
The couple were dancing in Freedom Square, Tehran, as part of the nationwide protests to bring down the ruthless regime.
READ MORE IN WORLD NEWS
Iran ABOLISHES morality police after months of violent protests with 200 dead
Inside Iran's vile executions with hangings from cranesas 'MI6 spy' killed
The online bloggers are also accused of "disrupting national security" by sharing the innocent dancing video.
According to local media, Amir and Astiyazh were arrested on November 1 and beaten by plainsclothes officers.
The two were not allowed to have lawyers in their later hearings, and their bail requests were denied.
Their families have reportedly been under pressure not talk about their arrest for fear of being arrested themselves.
Most read in The Sun
Jacqueline Jossa breaks silence on Dan Osborne split rumours
Love Island's Molly-Mae Hague gives birth to daughter with boyfriend Tommy Fury
Popular high street shop could collapse 'tomorrow' as hopes of sale fade
EastEnders favourite leaves after four years in dramatic exit storyline
Iran has been unforgiving in its crackdown on protests since the September 16 death of 22-year-old Jina Mahsa Amini.
The young woman was arrested by morality police for wearing her hijab "improperly", and severely beaten in their custody.
She succumbed to her injuries three days after her arrest, sparking the largest and most passionate revolution the Iranian Regime has seen since 1979.
The government's crackdown on protests has resulted in more than 520 people dead and nearly 20,000 arrested, according to activists.
Four men have been brutally executed since the government began their barbaric torture and arrest techniques last year.
The justice system in Iran has been criticised by human rights groups for forcing confessions and providing "sham trials" to those widely thought to be innocent.
Many protestors continue to post on social media videos of themselves tearing off their head scarves in a direct challenge to the country's fanatical ruling mullahs.
Supreme Leader of Iran Ali Khamenei continues to blame "terrorist-separatist groups" for stoking violence across the country.

Source: Read Full Article