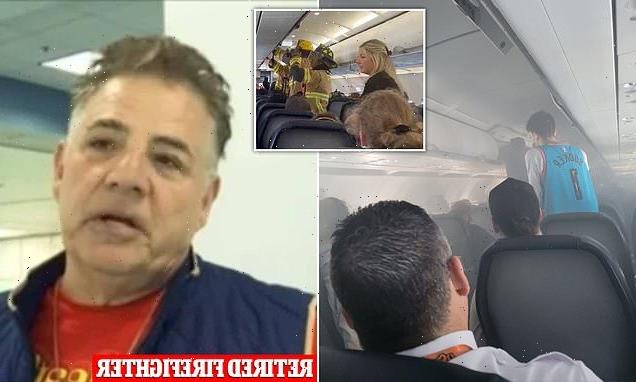 Terrifying video shows Spirit jet's cabin fill with smoke after battery caught fire in overhead cabin while plane was in mid-air: Retired fireman helped put out the flames
A battery caused a fire in an overhead cabin during a Spirit Airlines flight
The cabin filled with smoke and the plane made an emergency landing
A retired firefighter worked with crew members to put out the fire
A Spirit Airlines flight from Dallas to Orlando made an emergency landing in Jacksonville after a fire broke out in an overhead locker, filling the cabin with smoke.
A passenger on board described the moment a retired New York City firefighter put out the fire, which was said to have been caused by a device that was connected to a portable battery in a backpack.
After safely landing in Jacksonville at around 2pm on Wednesday, ten people were taken to a hospital due to the smoke with non-life-threatening injuries, the Jacksonville Fire and Rescue Department confirmed.
The FAA has said it is investigating the cause of the fire and confirmed it was caused by a battery.
Retired New York City firefighter Rocco Chierichella described the moment he put out a fire that broke out in the overhead cabin of a flight from Dallas to Orlando on Wednesday
Smoke filled the cabin and the plane was forced to make an emergency landing. One person was hospitalized after breathing in the fumes
Firefighter Rocco Chierichella said it was fortunate everything went the way it did. He worked with crew members equipped with fire extinguishers to put out the fire.
'I'm a retired New York City fireman, I guess its just instinct,' he told CNN. 'Luckily we got to it right away so we averted a major problem, it could have been really bad.' 
Passenger Joseph Fleck told DailyMail.com that Chierichella was a 'hero' and said he 'drowned the overhead cabin in water'.
'Someone yelled "fire" and I look up to see the cabin filling with smoke very fast,' he told CNN.
'A few passengers jumped up to open the overhead bin and saw a backpack on fire due to a battery pack that was charging a cell phone. It had basically exploded.'
'The smell was terrible and made it very hard to breathe,' he said, adding that that his children were agitated by the fire.' I was coughing a lot for a good two hours after.'
After making an emergency landing in Orlando firefighters boarded the plane to investigate the cause of the fire
https://youtube.com/watch?v=p64wFPijgys%3Frel%3D0%26showinfo%3D1%26hl%3Den-US
Video provided by Fleck shows the moments after landing when firefighters entered the plane and inspected the device that caused the fire.
Spirit Airlines did not have another plane available for passengers to continue their journey to Orlando so his family continued to Orlando in an Uber, which cost $250, he said.
He did say the airline issued him a refund for the flights, a $100 future travel voucher, food vouchers and reimbursement of $200 for the Uber. 
The condition of the person hospitalized is not currently known. Spirit did not immediately respond to a request for comment on Thursday morning. 
Source: Read Full Article