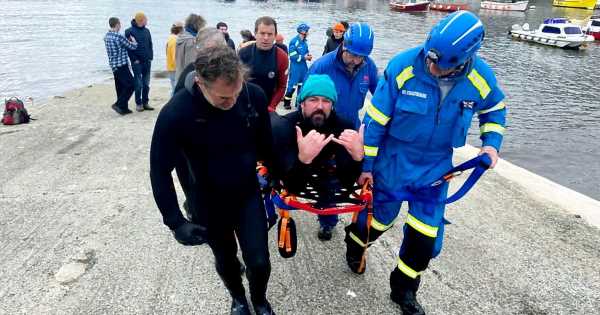 A surfer has revealed what it was like to have his leg "snapped in two" after he was attacked by a seal near the British coast.
Nathan Phillips was paddling out to sea on his surfboard when a seal began hounding him last Friday (March 3) on Porthleven, Cornwall.
The 42-year-old said he started to freak out when the seal began tugging at his board's leash, which keeps it attached to his body.
READ MORE: Biden prolonging Ukraine war to 'sacrifice lives to Satan' claims Russian psychic
"After I worked out that it was a seal and fended it off – it was just playing I think, but a wave then crashed down on me just after at a weird angle and sent my board flying into my shin," the self-employed bricklayer said.
It was this wave that caused his leg to "snap in two".
"I just started screaming with pain, and my mate dragged me onto his board and told me to start paddling back to shore," he recalled.
"After dragging him behind me to the coast I sat there for maybe 40 minutes and was eventually treated by medics – it was so painful, and I had to wait even longer in my mate's van while I waited for an ambulance after I couldn't fit in the air ambulance."
Unfortunately, Nathan had to wait even longer for treatment, as his 6ft 2in frame was too large to safely fit in the smaller-than-usual replacement Cornwall Air Ambulance sent to pick him up.
Police hunt for East London gang setting foxes on fire with 'lighter fluid'
Luckily, he was eventually taken to Derriford Hospital, where doctors and nurses told him he had suffered an open fracture requiring a cocktail of antibiotics to treat after the wound was left in "stinking" water while waiting for emergency services.
Speaking from his hospital bed, he said he was currently awaiting surgery with his leg pinned by a metal frame. The surfer is also expecting the birth of his second child with his partner in the next five weeks.
His friends Alec and Jason set up a Just Giving page to help self-employed Nathan get through the next few weeks, which has already smashed its goal of £2,000.
Alec said: "He's just such a top bloke, we just wanted to do whatever we could to help him out. He's currently on morphine waiting for surgery so the least we could do would be to set up a page to try and raise some money for him."
READ NEXT:
'We only stop raving if the missiles are flying overhead' says Ukrainian party prince
UK's most terrifying estate of crackheads and needles forcing scared families indoors
Killer known as 'The Iceman' claimed he committed up to 200 grisly murders for the mafia
Source: Read Full Article