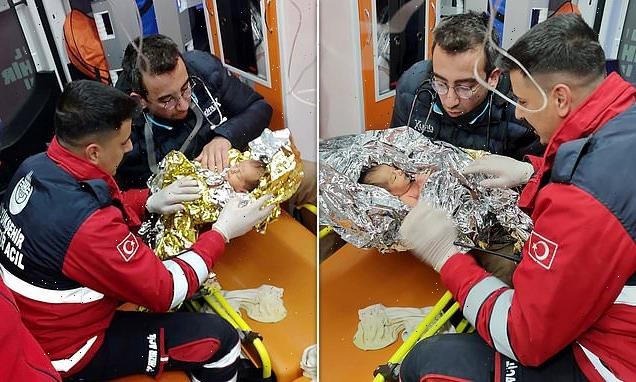 Ten-day-old baby is rescued having spent nearly half its life buried under rubble: 'Miracle' as newborn and his mother survive 90 hours trapped beneath collapsed building as Turkey-Syria quake death toll hits 21,000
10-day-old Yagiz and his mother were found alive after 90 hours in Hatay, Turkey
Desperate search and rescue efforts are ongoing in both Turkey and Syria
But hopes of finding more survivors are dwindling four days on from the quakes 
A baby and his mother have been pulled alive from the rubble in Turkey an incredible 90 hours after a building collapsed around them in the latest miraculous rescue effort by heroic aid workers.
The 10-day-old boy, named Yagiz, had spent almost half his life stuck under slabs of concrete before he was extracted from the ruins of Turkey's southern Hatay province.
Dramatic footage showed the child being carefully lifted out of the rubble and wrapped in a thermal blanket by paramedics, while his mother was strapped to a stretcher for fear of spinal injuries.
Desperate search and rescue efforts are ongoing in both Turkey and neighbouring Syria, with the occasional, with some quake victims still clinging to life beneath the debris.
But hopes of finding many more survivors are rapidly dwindling, with dehydrated and injured victims also suffering bitter winter temperatures four days on from the disaster.
10-day-old baby Yagiz Ulas is rescued from rubble after 90 hours in Hatay, Turkey
Yagiz was miraculously still alive and was immediately wrapped in a medical blanket and taken to paramedics 
36 year-old Gulendam Avcioglu is rescued from debris in Hatay, Turkey on February 10, 2023
Uzbek crews rescue 32 year-old Naim Bayasli from under the rubble of a collapsed four story building in Turkey's Antakya district more than 100 hours after the quakes hit
The death toll from the earthquake, which Turkish President Recep Tayyip Erdogan has called 'the disaster of the century', has risen to more than 21,000.
This total eclipses the more than 18,400 who died in the 2011 earthquake off Fukushima, Japan, that triggered a tsunami, and the estimated 18,000 people who died in a tremor near Istanbul in 1999.
The new figure, which is certain to rise, included more than 18,000 people in Turkey and more than 3,000 in civil war-torn Syria.  
The scale of the devastation is scarcely believable, with entire neighbourhoods of high-rises reduced to twisted metal, pulverised concrete and exposed wires.
Even though experts say trapped people could survive for a week or more, the chances of finding survivors in the freezing temperatures are dimming.
Now, as emergency crews and panicked relatives continue to dig through the rubble – and occasionally find people alive – the focus is shifting to demolishing dangerously unstable structures to prevent any further unnecessary deaths.
In Kahramanmaras, the city closest to the epicentre, a sports hall the size of a basketball court served as a makeshift morgue to accommodate and identify bodies.
A man watches over 36 year-old Gulendam Avcioglu who was rescued more than 100 hours after the quake in Hatay, Turkey
An aerial view of ongoing search and rescue operations at Ayse-Polat Residential Site in Batikent neighbourhood of Gaziantep, Turkey, February 10
A view of ongoing search and rescue operations in Adiyaman,Turkey
A view of ongoing search and rescue operations on a collapsed building in Gaziantep, Turkey
Workers continued rescue operations in Kahramanmaras, but it was clear that many who were trapped in collapsed buildings had already died.
One rescue worker was heard saying that his psychological state was declining and that the smell of death was becoming too much to bear.
In north-western Syria meanwhile, the first UN aid trucks since the quake arrived to the rebel-controlled area from Turkey only yesterday, with the people their having endured three days of horror with little to no aid.
Many of those who have lost their homes found shelter in tents, stadiums and other temporary accommodation, but others have been forced to sleep outdoors.
The winter weather and damage to roads and airports have hampered the response of aid agencies struggling to reach many remote areas.
Some in Turkey have complained that the government was slow to respond — a perception that could hurt President Erdogan at a time when he faces a tough battle for re-election in May. 
Erdogan has been visiting affected cities over the last two days.
Turkey's disaster-management agency said more than 110,000 rescue personnel were now taking part in the effort and more than 5,500 vehicles, including tractors, cranes, bulldozers and excavators had been shipped.
The foreign ministry said 95 countries have offered help.
Source: Read Full Article