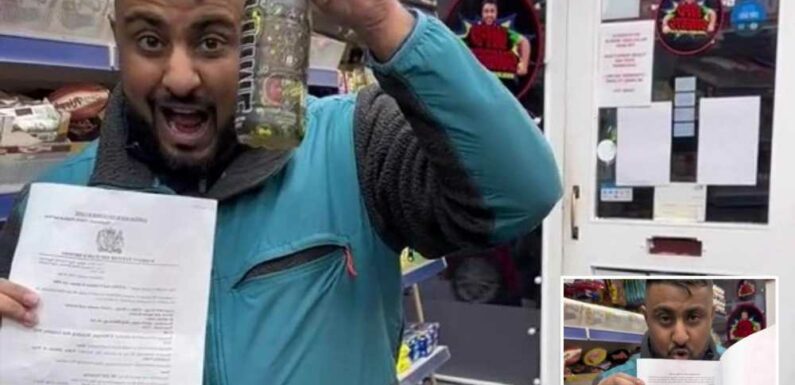 THE BOSS of viral Prime-selling sensation Wakey Wines has defiantly hit back at critics saying "we have nothing to hide" following a dramatic police raid.
The Wakefield convenience store, famous for selling Prime energy drinks for £100, was allegedly accused of selling Class A drugs.
Boss Mohammad Azir Nazir claimed West Yorkshire Police found nothing despite closing his shop down for an hour-and-a-half.
Photographs of the raid show officers with sniffer dogs.
In a video on his TikTok page, which has 754,000 followers, he posted the caption: "Just to clear up any rumours! & Videos that are circulating about today's police activity! We have nothing to hide!!"
The vendor has previously been slammed for flogging Logan Paul and KSI's drink for £100 a can.
Read More On Prime
Supermarket giant to start stocking Prime Energy drink – will it be at your store?
All we know about soft drink Prime Hydration and why it is so popular
One customer boasted in a clip she paid more than £1,200 for a can.
Nazir also sells bottles of Prime Hydration, which retail at £2, for £14.99.
Standing in the centre of his shop, he said: "Quarter past three today we got raided by West Yorkshire Police. Guess what for – class A drugs.
"But I'm a changed man and the only things I sell now are Prime, WFD sweets and that's about it.
Most read in The Sun
3 found dead & 2 hurt in car after search for pals who disappeared on night out
Sam Fox's sister dies after being rushed to hospital following heart attack
Keane and Neville made to eat words after mocking Souness' prediction
Pregnant Gogglebox star Scarlett Moffatt looks stunning as she shows baby bump
"Thankyou to my haters, you do what you're gonna do, and I will do what I've got to do. I've left that lifestyle. I've got a big surprise for you. Come closer Abdul."
The camera then moved forward to focus on a document Nazir was holding.
It appeared to show a West Yorkshire Police "endorsement by officer executing warrant".
"None" was handwritten underneath "the following was found, for which search was authorised by the warrant" and "the following additional material was seized".
He added: "Look at that. So keep hating me, you do what you're gonna do, and I will do what I've got to do, me and my team. I've left that lifestyle. So look here Abdul, what does that say?"
Abdul said: "Nothing found."
Nazir said: "Nothing found. So yeah you closed my shop down for an hour and a half, you got the dogs in.
"But police are only going to do their job aren't they."
He thanked the officers and added: "That proves it. Boss man at Wakey Wines is a legit guy. They were very helpful. I'm at the shop tomorrow selling Prime, WDF sweets. Business as usual."
WDF sweets are hand packaged by staff at the shop and sold for £20.
Nazir revealed he has been hit by dozens of calls asking what had happened.
He said: "Everyone's been ringing me asking if we've been shut down. We won't get shut down mate. We've got more shops opening."
The showman then continued with the shop's trademark refrain.
He said: "So Abdul, what's the best shop in Wakey?"
Abdul said: "Wakey Wines."
Then Nazir said "Abdul come closer" and customers in the shop sang "Abdul move back" before Nazir continued "Bingo Bingo Gala Bingo. I love being a tax payer now, I love it. Carry on haters."
Comments under the video called Nazir "an absolute legend".
Another said: "He doesn't have to sell them he just sell Prime for the same price."
One wrote: "County lines to Wakey Wines."
The Sun has approached West Yorkshire Police for comment.
At one point the store was banned from TikTok for flogging Prime for ridiculous prices – but the ban was later rescinded.
He was also slated by YouTuber turned boxer KSI for selling Prime drinks at inflated prices.
In his viral videos, Nazir gets his customers to pose with the drink and describe his firm as the best in Wakefield.
Wakey Wines, as the shop is known on TikTok, has attracted customers from all over the UK and even as far as Canada.
And Mr Nazir said his new-found fame had led to approaches to appear on the comeback series of Big Brother.
Prime has become the first "viral drink" and is in ever-increasing demand in UK shops.
Customers have travelled more than 100 miles to get their hands on the drink at the popular newsagents in Wakefield.
And it has seen shoppers queuing for hours to nab the drinks containing mostly water added with vitamins and minerals, with few calories and no added sugar. 
Advertised as a "hydration drink" it is also made up of coconut water but does not have any caffeine in it.
Read More on The Sun
Gaz Beadle's wife hits back after she's mum-shamed over car seat
Nursery teacher reveals there are five types of mums when it comes to drop off
The drink is so hot among youngsters that desperate parents have travelled more than 500 miles just to get their hands on a bottle.
Supermarkets had even seen stampedes of customers and parents wrestling kids out of the way to get their hands on a bottle.

Source: Read Full Article