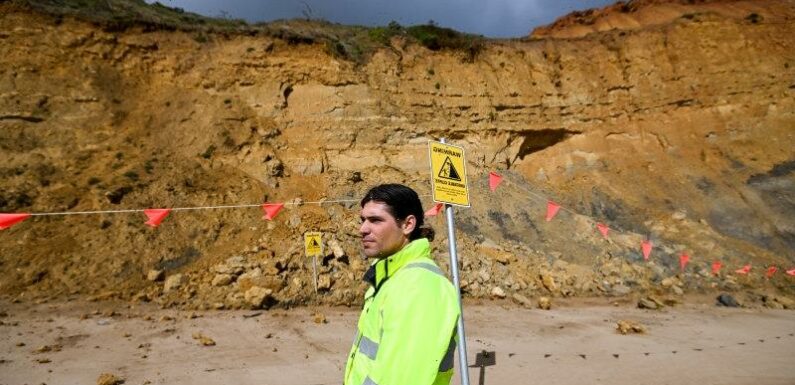 Key points
Heavy rain has exacerbated the risk of cliff collapses along the Great Ocean Road. 
Authorities are warning beach goers against sunbaking beneath cliffs. 
There have been at least two large collapses in the past two months. 
Beachgoers have been told not to sunbake under the picturesque cliffs of the Great Ocean Road this summer due to the increased risk of large collapses at popular beaches.
Great Ocean Road Coast and Parks Authority coastal reserves manager, Caleb Hurrell, said heavy rain had increased the risk of cliff collapses and beaches at Torquay, Jan Juc, Anglesea and Aireys Inlet were among those presenting the highest risk.
"Our coastal cliffs are always changing," he said. "We do have a highly erosion-prone coastline. We do have safety risks."
There have been at least five collapses recently, including one at Jan Juc and two near Anglesea, following months of wet weather that has exacerbated instability in cliff faces. There were another two recent collapses at Jarosite Headland near Bells Beach.
Caleb Hurrell at Jan Juc, where part of the cliff recently collapsed.Credit:Joe Armao
The heightened safety fears come as Life Saving Victoria braces for busier and more crowded beaches this summer because many riverside holiday destinations have been flooded.
The coastal authority is erecting more signs at high-risk beaches and is warning beach goers not to explore caves, climb cliff walls or sunbake near them this summer.
It has roped off a section of beach at Jan Juc after a rock fall damaged recently erected warning signs.
Hurrell said deep cracks in the cliff face and overhanging sections of mudstone and sandstone indicated more falls were inevitable.
A beach known as Demons Bluff, near Anglesea, remains permanently closed after huge sheets of rock and sand crumbled last year. There have since been further cliff failures.
Demons Bluff after part of the cliff collapsed last year. Credit:Nine
Hurrell said another fall at Jarosite Headland, near Bells Beach, had resulted in a rockfall that brought down more than 20,000 tonnes of debris.
The authority wants to avert further tragedies after a man died last summer when a cliff collapsed near Bells Beach.
Hurrell said the coastline was eroding naturally, but heavy downpours and more extreme weather associated with climate change were also contributing factors.
"This is a natural process and cliff falls have been occurring well before European arrivals."
About 20 years ago, a man was trapped under debris in a landslide at Jan Juc but survived the incident.
However, there are many popular beaches along the coast that are not bordered by cliffs.
Life Saving Victoria's lifesaving services general manager Liam Krige urged holidaymakers to check the signs and stay away from unstable areas.
"Our lifesavers will have their work cut out for them patrolling between the red and yellow flags this summer, without having to worry about the risks unstable cliffs pose behind them, too," he said.
Melbourne University coastal erosion expert David Kennedy, who has monitored Demons Bluff since 2018, said the cliffs at the site were retreating by 67 centimetres on average each year.
"We know that more falls are going to happen," he said. "You wouldn't be able to stop the falls without concreting the entire cliffs."
Kennedy said the rate of collapses had increased recently due to the wet weather.
The Bureau of Meteorology reported rainfall in spring was well above average in Victoria, while October was the wettest since records began in 1900. Summer is also likely to be wetter than average.
Erosion has created striking geological structures including the Twelve Apostles. Credit:iStock
"It's driven a lot by moisture," Kennedy said. "The more rain we're getting the more rain is going down those cracks. It's speeding things up."
While erosion presents safety risks, Kennedy said it had also created the visually striking cliff faces along the Great Ocean Road.
He warned other coastal areas prone to cliff collapses included the Twelve Apostles and beaches from Sorrento to Blairgowrie on the Mornington Peninsula.
Heavy downpours also resulted in the partial closure of the beach at Mount Martha, on the Mornington Peninsula, after a cliff became unstable and vulnerable to collapse.
A slow-moving landslide has also severed access to the village at Falls Creek, where the main route into the town remains closed.
The Morning Edition newsletter is our guide to the day's most important and interesting stories, analysis and insights. Sign up here.
Most Viewed in National
From our partners
Source: Read Full Article