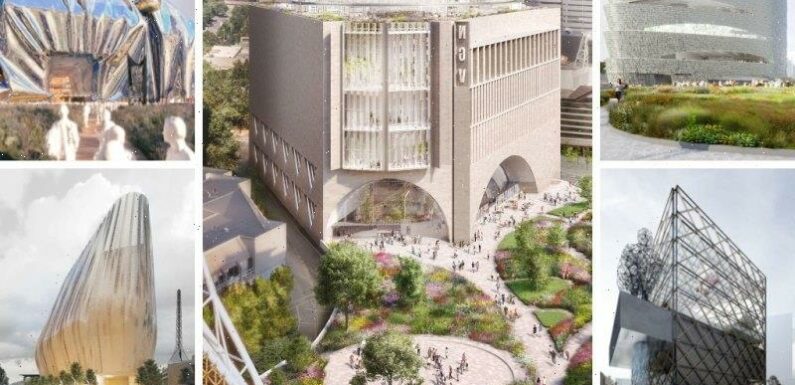 National Gallery of Victoria director Tony Ellwood has defended the design of the new NGV Contemporary building as "genius" and "breathtaking" after the building came under fire for being risk-averse, bland and beige.
The winning design by architect Angelo Candalepas for the building, which is the cornerstone of the $1.7 billion Melbourne Arts Precinct redevelopment, was named in March.
The NGVC winner (centre) and some of the ones that got away.Credit:NGV
At the opening of the NGV's Alexander McQueen exhibition on Friday morning, Ellwood said the gallery had expected there would be "healthy discussion" about the design.
"I don't think the designs to date truly reflect the ambition of this building," he said. "You're talking a 60-metre-high building, this beautiful glazed two-tier rooftop, these verandahs, these glass box galleries, all accommodated on a triangular site with beautiful rectilinear spaces. It is quite breathtaking."
Ellwood said there would be a 60-metre "omphalos" core that runs through the building and also circular ramps as a way to traverse the building.
"It is quite genius in many ways that we're working with somebody who's designed a building that won't look great just for tomorrow and tomorrow's aesthetics, it's going to be a building that's going to also look sophisticated and contemporary in 100 years' time. So it pulls back, but it actually talks to the future."
Director of the National Gallery of Victoria Tony Ellwood.Credit:Luis Enrique Ascui
Critics argue the judges went for a safe design when there was a once-in-a-generation opportunity to produce a new architectural landmark.
Writing in The Age this week, architect Norman Day said the design was a "beige, bland, gaudy show of retail-led exhibitionism".
Ellwood said Candalepas had looked at the inheritance of architectural language on the site, particularly by NGV architect Sir Roy Grounds.
"He wanted something that didn't compete with that, he wanted something that reflected that but also reflected the 21st century sensibility," Ellwood said. "The winning design has been done by a great intellectual, classicist and architectural aficionado."
Ellwood said Melbourne's passion for architecture was one of the reasons the NGV had established an architecture department and opened an exhibition showcasing the final eight shortlisted contestants.
"This is a city that's always loved architecture," he said.
Minister for Creative Industry Steve Dimopoulos said he welcomed the debate about the building's design.
"God forbid we had a design no one cares about," he said. "I am so chuffed … one of the big concepts of urban design and architecture is that it sparks a community conversation."
Dimopulos said the NGV Contemporary would definitely be an incredible space.
"We are really lucky to have some of the best architects in the world to have brought their experience, skill and their boldness to this design," he said. "It just speaks to the contestability of art and the kind of sophistication that Victorians and Melburnians have in terms of having a conversation about design and art. I think it can only be a good thing."
The preliminary design was unveiled in March, with predictions the gallery will attract 1 million visitors from interstate and overseas annually once it opens to the public in 2028.
With Paul Sakkal and Damien Woolnough
Most Viewed in National
From our partners
Source: Read Full Article