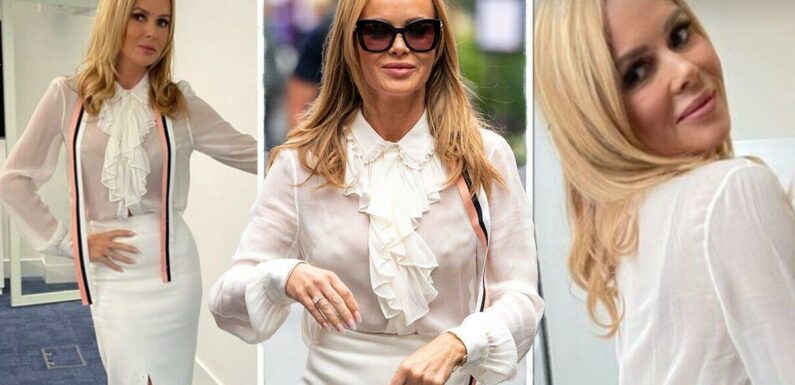 Amanda Holden joked she's posing like a "1950s office secretary"
Wearing her office secretary inspired look, Amanda struck numerous poses, even leaning on an office blind to show off her remarkable figure-hugging outfit. The star videoed herself talking through the style which unintentionally showed a glimpse of her underwear.
We use your sign-up to provide content in ways you've consented to and to improve our understanding of you. This may include adverts from us and 3rd parties based on our understanding. You can unsubscribe at any time. More info
Speaking to the camera as she went through her new outfit, which was made up of a long white pencil skirt and the sheer ruffle front shirt, paired with a stripy patterned necktie, Amanda, 51, said she would be in for an "interesting day" as her bra was clearly visible.
Looking nothing short of sensational as always, Amanda posed in an all white ensemble which she was wearing courtesy of luxury highstreet brands Reiss and Ted Baker.
Posting on her Instagram stories to her 1.8 million followers, Amanda said: "Good morning, happy Wednesday. Today I am wearing this gorgeous shirt from Reiss, which I have to be honest didn't realise was so sheer. Erm, so that's going to be an interesting day.
"And this skirt is from Ted Baker. I have had it for absolutely ages but I really am a fan of the 'zippage' and the snug fit."
Looking sultrily into the camera Amanda signed off the video saying: "It makes me feel like a 1950s secretary."
Amanda Holden suffered a wardrobe malfunction as she set herself up for an "interesting day".
Revealing that she "didn't realise" her Reiss shirt was so sheer, Amanda gave a cheeky grin to the camera and held up her hands as she said she was going to be in for an "interesting day". Despite the majority of the shirt being covered by a ruffle and thin necktie, Amanda seemed slightly worried about flashing her bra, which was more obvious from the back.
The star completed her secretarial look with white accessories
Waving to cameras as she walked into Global Studios ready to host the breakfast show on Heart FM, Amanda was pictured carrying a small sturdy white handbag and balancing in small pointed white heels.
The star tapped her behind as she showed off her skirt's "zippage"
Turning around so viewers could see the back of her pencil skirt, Amanda tapped her bottom, saying: "I really am a fan of the 'zippage". Turning quickly back around to face the camera she then stroked her legs saying she was a "fan of the snug fit" of the skirt.
Amanda Holden beamed as she showed off her impeccable figure
The gorgeous Ted Baker skirt, which Amanda revealed she had had "for ages" cinched in the 51-year-old's tiny waist and ended just below the knee. The large triangular slit at the front of the skirt gave way for the Britain's Got Talent judges' impeccably muscular tanned legs.
Always dressed immaculately for work
Amanda never fails to impress as she turns up for work looking glamorous. Posting another photo that was caught of her as she arrived at Heart FM on another grey London morning, the star stood out from the crowd in a turquoise oversized blazer dress, which had buttons all down the middle. Fitting the star perfectly round the shoulders, Amanda paired it with a black shoulder back which had a gold chain.
Wearing purple as she carried out royal reporting
Reporting for Heart FM live on the scene whilst members of the public queued to see the late Queen Elizabeth II lying-in-state, Amanda wore a gorgeous purple dress and matching purple fitted coat. Talking to her colleague Jamie Theakston, who was back in the studio, Amanda captioned the video, which was later posted on her Instagram page: "An emotional yet beautiful sense of community at Westminster Hall today."
Source: Read Full Article