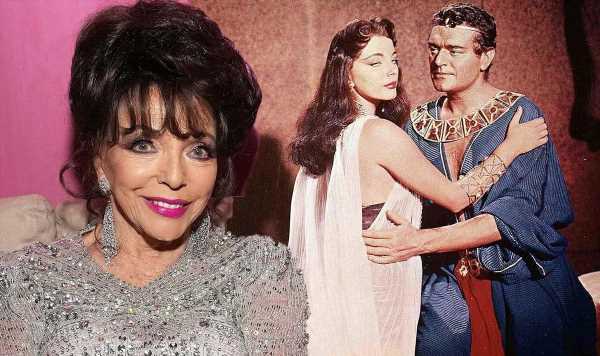 Joan Collins describes being called in to replace Elizabeth Taylor
We use your sign-up to provide content in ways you've consented to and to improve our understanding of you. This may include adverts from us and 3rd parties based on our understanding. You can unsubscribe at any time. More info
Joan Collins has looked back on her teenage years and the struggles she faced as she tried to come to terms with how her body was changing due to puberty. The legendary actress, 89, admitted she "hated" the changes and wore boys' clothes to conceal them, before changing her mind about wanting to be a boy when she was "discovered".
.
Dame Joan said: "I remember going through puberty at 14 and hating the way my body was changing.
"I hated everything that was happening," Joan added to Saga Magazine.
"So I rebelled and wore boys clothes. I wore corduroys and scraped my hair back.
"I even went to football matches with my father."
However, the film star said being discovered at age 15 shifted her perspective on embracing her femininity.
When asked when she changed her mind about wanting to be a male, Joan said: "I think when I went on holiday to France when I was around 15. When they discovered me!"
The confession comes after Joan paid an emotional tribute to Queen Elizabeth II following her death on September 8.
Joan took to Instagram to upload a video from her window showing the rain outside.
She penned in the caption: "It feels as if #britain is crying today @theroyalfamily."
In a follow-up post, Joan reflected upon the Queen's last appearance on the balcony during this year's Platinum Jubilee celebration held in June.
Sharing a picture of a flag flying at half mast, Dame Joan wrote: "The Queen was magical.
"The greatest and most popular star who represented the best of British values.
"I was grateful to be part of her Platinum Jubilee and to see her last appearance on the balcony. I hope she knew how much we all loved her."
Joan signed off her poignant message with the hashtag "#ripqueenelizabeth".
She also revealed she "couldn't stop crying" when Buckingham Palace announced the Queen's death, during a candid interview with Piers Morgan on his TalkTV show.
Joan began: "First of all I was sitting there watching the news yesterday with my daughter Katie and we hear suddenly a message from the Palace that the Queen is not well and I said, 'That just doesn't sound good.'"
With her voice breaking, Joan continued: "We started watching it and the more times we saw the Queen when she was a little girl, when she was a teenager, when she was 21 and said that really wonderful speech, the more upset we got.
"When we finally heard the news at 6.30pm, you know I couldn't stop crying.
"Even though you expect it and obviously we have been thinking about it, you really think she's iconic, she's never going to go.
"She's going to be there for us. She's part of my whole life, I don't remember being around when she's not around."
Source: Read Full Article