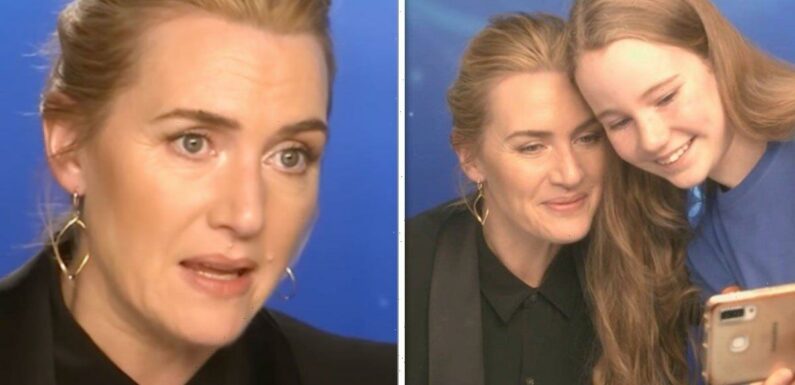 I Am Ruth: Trailer for feature length drama starring Kate Winslet
We use your sign-up to provide content in ways you've consented to and to improve our understanding of you. This may include adverts from us and 3rd parties based on our understanding. You can unsubscribe at any time. More info
Kate, 47, gave a child reporter a special pep talk before the journalist conducted her first celebrity interview. The sweet clip has received more than 2 million views on Twitter, and has set the internet ablaze. The child wore a T-shirt that explained in her native German that she was a "child reporter" as she sat down with the Titanic actress to cover Avatar: The Way of Water press junket for a programme called Logo! that airs in Germany.
"This is your first time doing it?" Kate asked Martha when they began the chat, which was shared by @soyszenrita on Twitter.
"OK, well guess what? When we do this interview, it's gonna be the most amazing interview ever.
"And do you know why? Because we've decided that it is going to be.
"So we've decided right now, me and you, that this is gonna be a really fantastic interview."
A description for the official video uploaded by Logo! notes in German that Martha was "pretty nervous" to interview the Oscar-winning actor, who plays fierce Na'vi leader Ronal in the blockbuster sequel to James Cameron's Avatar.
But fortunately for the budding journalist, Kate "cheered her up".
A sweet photo of the novice reporter taking a selfie with the Titanic and Mare of Easttown star has also been widely shared on social media.
"You can ask me anything that you want, and you don't have to be scared," Kate told Martha in the video.
"Everything's gonna be amazing, OK? You've got this. OK, let's do it!"
In recent weeks, Kate has been busy promoting Avatar: The Way of Water and has drawn positive reviews from critics.
Also among the film's main cast are Zoe Saldana, Sam Worthington, Stephen Lang and Sigourney Weaver.
Kate, who played young socialite Rose DeWitt Bukater in the blockbuster film Titanic, was just 19 when she landed the part and was subjected to intense scrutiny from viewers and the press who criticised the star's body – something she says was "borderline abusive".
DONT MISS:
Julia Bradbury shares emotional update on tough breast cancer battle (PHOTOS)
Denise Welch slams Piers after royals 'thanked' host amid Meghan row (NEWS)
Michelle Keegan shares 'lovely' tribute to Love Island star (LATEST)
"Apparently I was too fat. Isn't it awful? Why were they so mean to me? They were so mean. I wasn't even f***ing fat," she said on the Happy Sad Confused podcast.
The Oscar winner added that if she could go back in time to address the comments made about her back then, there is one thing she wishes she would've said.
"If I could turn back the clock, I would have used my voice in a completely different way.
"I would have said to journalists, I would have responded, I would have said, 'Don't you dare treat me like this. I'm a young woman, my body is changing, I'm figuring it out, I'm deeply insecure, I'm terrified, don't make this any harder than it already is.'
"That's bullying, you know, and actually borderline abusive, I would say."
Kate also discussed what it was like to become famous during that time and the major impact it had on both her career and personal life.
"I was never a very good famous person, I wasn't ready to be a famous person and somehow I was so fortunate because I instinctively knew that at the time and resisted it," she says.
"It was really scary to become that famous that quickly all of a sudden, and truly my life went from being able to just roam around make-up-free, going to buy a pint of milk and the newspaper across the road to suddenly that was an abnormal activity because I was literally surrounded by press, just walking across the street."
Source: Read Full Article