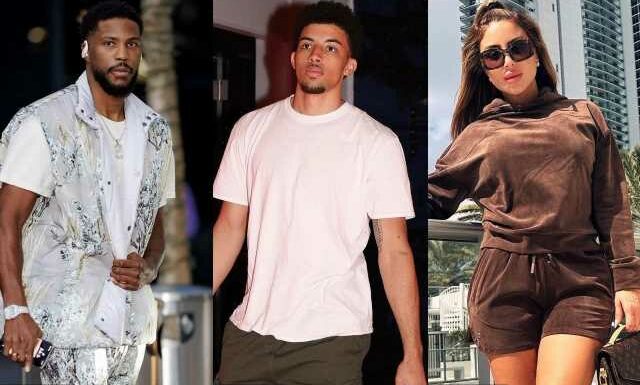 More recently, the 48-year-old former wife of Scottie Pippen also sparked controversy with her new romance with the 32-year-old son of Michael Jordan, Marcus.
AceShowbiz –Larsa Pippen's complicated dating history continues to make headlines. After sparking controversy with her new man Marcus Jordan, who's Michael Jordan's son, Scottie Pippen's ex wife's son Scotty Pippen Jr. is now teammates with her ex-fling Malik Beasley.
Just a few hours before the NBA trade deadline on Thursday, February 9, the Los Angeles Lakers acquired Malik from the Utah Jazz, along with D'Angelo Russell and Jarred Vanderbilt, as part of a deal with the Minnesota Timberwolves.
The new move means 26-year-old Malik will now be a part of the same organization that cuts checks for Scotty, the 22-year-old son of his former boo Larsa. Upon learning of the awkward situation, fans flocked to social media to share their thoughts.
"I couldn't imagine being that old & getting passed around by my son co-workers," one person wrote on Instagram. Another chimed in, "That locker room is gonna be awkward," with someone else adding, "Its werid to me that shes still dating nba players when her grown sons play in the nba , why you trynna bag his coworkers mom."
A different person opined, "Still can't get past the fact that she literally remembers Marcus as a child and has entered a relationship with him. If this were a dude…tables would've been flipped upside down." Someone blasted Larsa's dating history, "Soooo she's out here dating boys her sons age… that's weird."
Larsa and Malik briefly dated back in late 2020. At the time, they were pictured holding hands in Miami. The PDA-packed photos then went viral and ended up "blindsiding" Malik's wife and child's mother, Montana Yao.
Following the scandal, Montana filed for divorce and at the same time, Larsa's soon-to-be ex-husband (now divorced) Scottie also spoke out on Twitter. The famous Chicago Bulls basketball player said, "Focused on myself and my goals. I'm not responsible for nobody's actions. All good over here."
Larsa and Malik ended up parting ways just months later in April 2021. Malik then issued a public apology to Montana, stating in part, "I wanna say sorry for putting you in the situation you were put in the last few months." Malik and Montana later welcomed their second child in November 2022, a baby girl named Mia, who joined big brother Makai.
You can share this post!
Source: Read Full Article