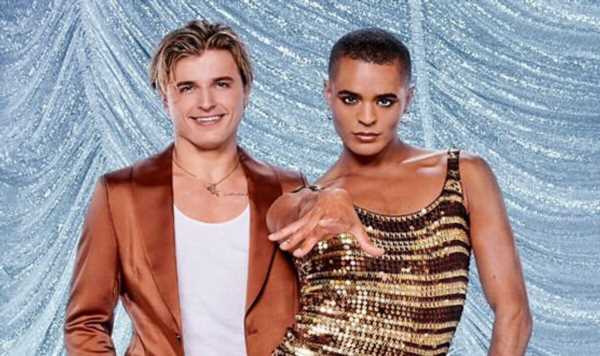 Strictly: Layton Williams announces he's joined the cast of 2023
Layton Williams defended his decision to wear flamboyant outfits on Strictly Come Dancing, as one viewer tweeted to say he "hoped" the actor would "not wear a dress".
The Bad Education star brilliantly clapped back at the negative remark as he shared a photo of him wearing a black feathered gown.
The Twitter user typed: "I think this is the worst lineup so far I hope that camp black dude doesn't wear a dress. Please not #StrictlyComeDancing."
In response, Layton typed: "Camp! Me? No," as he posed up a storm in a floor-length feather and mesh dress.
Immediately his followers took to the comment section to defend the actor and the show.
READ MORE Strictly's Jody Cundy's disability explained as he beats odds with world titles
One said: "You're watching Strictly and worried about it being too camp…"
A second replied: "Don't watch it then!"
While a third remarked: "Nobody is forcing you to watch!"
On Saturday night it was revealed Layton would be dancing in the competition with professional Nikita Kuzmin.
Don't miss…
Chris Evans 'sad' after cancer procedure as he admits there's no guarantees[LATEST]
Donny Osmond addresses retirement after string of health woes threatened career[NEWS]
Dick and Angel Strawbridge leave fans 'disappointed' over US move[UPDATE]
The duo addressed backlash over the Billy Elliot actor's performance background while being interviewed by show host Claudia Winkleman.
Nikita said: "Ballroom and Latin are completely different to anything Layton has done so far, the technique, posture and especially coordination are completely different, he has a lot to learn and I can't wait to teach him."
Layton also had his say about the pairing, adding: "He is going to whip me into shape and keep me on the straight and narrow because I do like to think I know what I am doing and do the most, but I really don't have a clue!"
As the show aired, some viewers once again suggested he had "an unfair advantage", while many fans of the show and actor Layton were quick to hit back at this, once again pointing out he is not trained in the dances he will be learning on the show.
We use your sign-up to provide content in ways you've consented to and to improve our understanding of you. This may include adverts from us and 3rd parties based on our understanding. You can unsubscribe at any time. More info
Viewers were quick to spot signs the pairing could win too, having high hopes for Layton and Nikita.
One viewer tweeted: "Layton & Nikita are going to be a force to be reckoned with! I'm sooooo excited for them!"
Another said: "I said from the day Layton was announced to do Strictly a couple months back that he will win. Mark my words."
A third added: "Layton is gonna be fantastic on this series can't wait to see more."
Source: Read Full Article