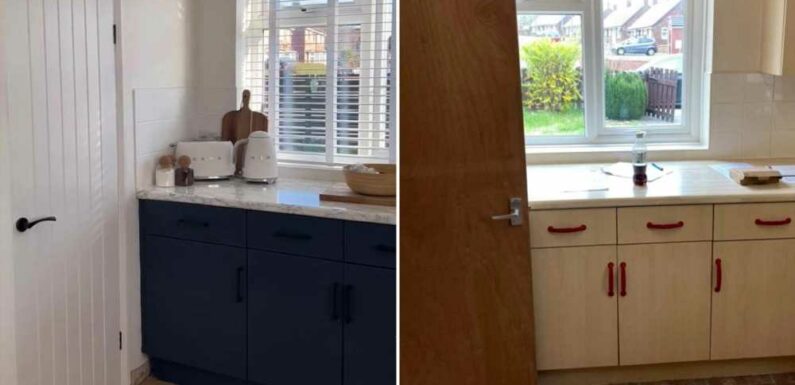 A WOMAN has revealed that she gave her tired council house kitchen a budget makeover using bargain buys from Wilko, Amazon, B&M and Ikea. 
Posting on social media under the username @61thecouncilhouse, the DIY whizz explained that she gave her kitchen a fresh look with some paint, vinyl wrap, handles and decor items. 
Revealing the details of the cheap makeover, she shared her clip with the caption 'Council kitchen transformation details!'
She said: "Hi everyone! So I thought I'd just do a quick video really, just about where I got things from in my kitchen, how much things cost. 
"So I did change the work tops, I used a vinyl wrap from Wilko, £5, I needed four rolls, so it was £20 all in all, absolute bargain, can't complain.
"Just make sure obviously there are no bits underneath when you're applying it.
Read more home stories
I gave my tired council house bedroom an epic transformation – it looks amazing
I gave my trampy council house stairs a DIY transformation & people are shocked
"I also switched up the handles, so I did use the same size as the previous ones because I didn't wanna faff about with filling holes and stuff.
"I got these from Amazon, there were £32.99 and you got 15 in a pack.
"I decided to go for black just to match everything else really.
"Then I obviously painted my kitchen cupboards, I did the bottom half blue and I did the top white.
Most read in Fabulous
Dad-of-22 Noel Radford breaks down in tears at emotional discoveries about past
Royals 'plan to give Harry & Meghan the cold shoulder' at the Coronation
Andrew complaining that he was left no money by the Queen when she died
Members of Prince Harry's family 'DID go to Princess Lilibet's christening'
"The blue I used was Hornblower by Frenchic, I absolutely love this paint and then the white I used was Dazzle Me, again by Frienchic and I've also used this for the tiles as well.
"I just got a little pot and to be fair it did go a long way.
"And I also bought the rails from IKEA and then obviously needed to buy the hooks separate and the basket there, we bought that separately.
"I think it was £8 and I've got two of those and I just put them both under my cupboards, so yeah the rail was £8 and the hooks were £4, again they come in all three colours – black, silver and gold.
"The tea, coffee and sugar pots were from B&M, they were £2.50 and they were just an absolute bargain really, love a bargain.
"The tiles, I painted those white, the kitchen sink I did actually place, I bought a second-hand kitchen sink, cleaned it all up and then obviously got rid of the old one." 
We think the DIY kitchen looks fabulous and clearly many others do too, as in just two days, her clip has quickly amassed a whopping 328.6k views.
It has 8,907 likes, 303 comments and 419 shares.
Social media users were left open-mouthed at the transformation and were quick to express this in the comments. 
One person said: "It all looks so good, you should be chuffed." 
Read More on The Sun
I grabbed all the make-up left in Aldi – I've found a gem with the concealer
We tried grooming our dog ourselves – result is the worst haircut in history
Another added: "Looks amazing." 
A third commented: "Looks lovely, really like it."

Source: Read Full Article