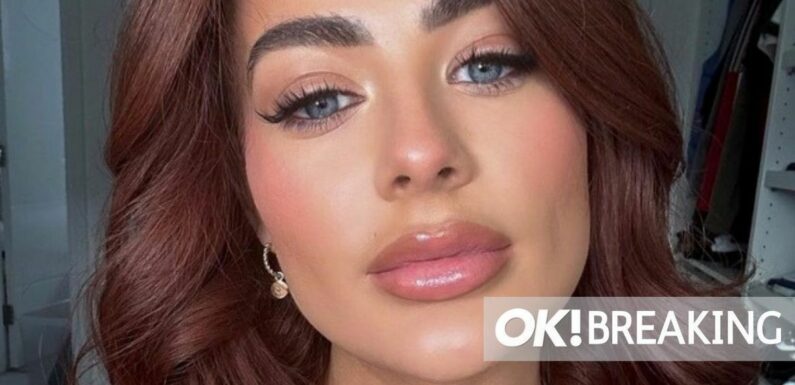 Jessica Hayes has shared the sad news that she's suffered a miscarriage.
The Love Island star took to Instagram on Sunday, 2 April, to share the devastating news next to a photo of her bump.
Starting her post with a trigger warning, Jessica penned: "I debated posting it feels really strange to open up and feel vulnerable but you know I'm always open and honest with you all and it's hard to pretend I'm ok as it's been a rough week.
"But I hope that someone going through the same this might help. I was pregnant and now I'm not."
Jess continued: "I spoke about my 1st loss and tbh I didn't know I would be here again earlier this time but it still feels complete sh*t.
"It's not really just losing a pregnancy it's the plans you make, your vision of what that baby or child might of been like, what your family will look like and it gets taken away in a second."
Further detailing her loss, the reality TV star went on to say that she had to carry on as normal and take care of her three year old son, Presley.
"When your experiencing loss you have to pretend you are ok, wipe your tears and carry on because you have a little one, you cook dinner, you read the stories. You do the school run. Nothing stops," she wrote.
"It was a traumatic day when it happened which I wasn't really expecting at all I tried to keep busy and go about my day went out which was a big mistake ..rushed home panicked after last time (previous haemorrhage) convinced myself it might be happening again, so I was just happy to get out the other side."
Jess has sadly had a miscarriage before and lost her little boy Teddy at 19 weeks in 2020.
Speaking to us in November, the 29 year old admitted that she finds Christmas difficult every year without her little boy.
Her first miscarriage came after the birth of her son Presley in 2019.
"I associated everything I normally associate with Christmas with Teddy," Jess told us. "And it would bring back all those feelings. I remember one of the songs they played when I was walking into the funeral was Silent Night and every time I hear it now I just can't cope."
The heartbroken mum-of-one went on: "I look at Presley and I think they probably would have been very similar.
"Presley finds little feathers and he says his name and points to the sky and says, 'Brother Teddy'. It's crazy that he has that connection with him even though they never met.
"There isn't a day that goes by where I don't think of him and I don't think it ever leaves you. It's really hard. There is a little place I can visit him and I'll go down there with Pres [on the anniversary]. I'll also get his memory box out and look at photos of him."
In the wake of Jess' most recent lost, she has been showered with condolences and love from her Instagram followers.
The Sands National Helpline provides a safe, confidential place for anyone who has been affected by the death of a baby. You can call the Sands Helpline on 0808 164 3332 or visit www.sands.org.uk.
READ MORE:
For all your daily celebrity news and gossip, sign up to OK!'s newsletter – CLICK HERE

Jess Hayes admits 'I was at rock bottom after my baby's death – my new fiancé saved me'

Stars send their love to Jessica Hayes after she tragically loses baby boy at 19 weeks

Love Island's Jessica Hayes opens up about losing her baby: 'Not being able to take your baby home is the worst thing in the world'

'I lost two babies in one year and struggled with the grief'
Source: Read Full Article