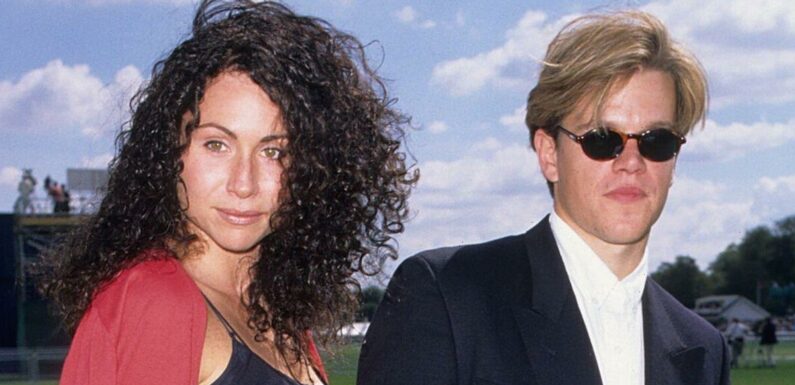 The One Show: Minnie Driver shares Beyonce anecdote
We use your sign-up to provide content in ways you've consented to and to improve our understanding of you. This may include adverts from us and 3rd parties based on our understanding. You can unsubscribe at any time. More info
Matt Damon, 52, dated fellow actress Minnie Driver, 52, in the early 1990s after meeting on the set of the 1997's Good Will Hunting. The Hollywood actor admitted that Minnie "rocked" his world, before announcing the couples break up during an interview with Oprah Winfrey in 1998 just one month later.
Well, I'm single!

Matt Damon
Matt and Minnie were the talk of the 90s due to their relationship coinciding with the promotional tour of their movie, Good Will Hunting.
The Martian star appeared on the Late Show with David Letterman while promoting the Hollywood flick and stated that Minnie "pretty much rocked my world".
However, just a mere month later after praising his partner, Matt appeared alongside Robin Williams and Ben Affleck on Oprah.
He announced on the show, without consulting Minnie first: "Well, I'm single. I was with Minnie for a while, but we're not really romantically involved anymore.
"We're just really good friends, and I love her dearly….I care about her a lot. We care about each other a lot.
"It wasn't meant to be, you know? And if it's not meant to be, then it's not meant to be."
The way the breakup was publicised on TV made it one of the most popular stories of the 90s, with Minnie receiving a lot of unwanted attention.
She then hit back to the Los Angeles Times about the Oprah interview: "It's unfortunate that Matt went on Oprah; it seemed like a good forum for him to announce to the world that we were no longer together, which I found fantastically inappropriate.
"Of course, he was busy declaring his love for me on David Letterman a month previously."
Matt has since insisted that Minnie did not learn of their breakup through his television appearance.
Minnie has been asked throughout her career about her public relationship with Matt, even speaking to Chris Evans about it on his Virgin Radio show last year.
She said: "Matt Damon was just this lovely, talented, great person who was also very young and got famous very fast.
"And people don't always behave well in situations when you're under pressure.
"It was a very sweet romance that we had. And I really do look back on it with such fondness no matter how it ended up.
"It was just sort of dramatic and tabloid-y and was really unbelievable." (sic)
Minnie also recalled how she found out Matt was dating other people from looking at magazines in the supermarket.
She said: "At the time, it was weird, walking down the aisle in the supermarket with magazine covers in stereo of him making out with his new girlfriend after we'd broken up.
"We really did fancy each other, we really were good friends at that point.
"And they let us improvise a lot, there was a lot of real, the way in which we spoke to each other."
Minnie has been in a relationship with Addison O'Dea since 2019, while Matt has been married to Luciano Barrosso since 2005.
You can watch Good Will Hunting this evening at 11.45pm on Channel 4
Source: Read Full Article