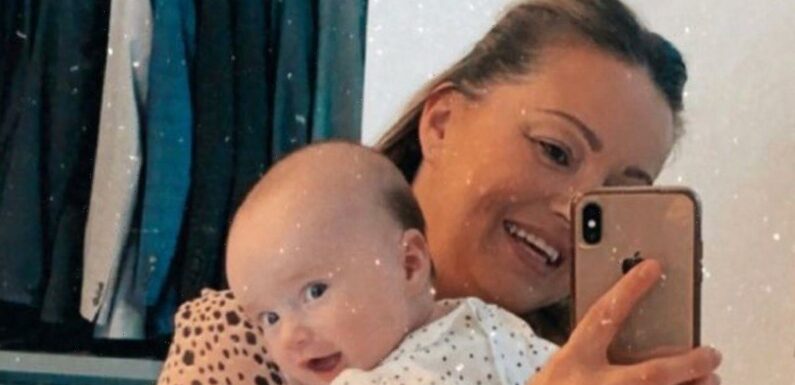 Ola Jordan has taken a humorous swipe at her husband James Jordan's hairline in a throwback snap of their daughter.
Posting to Instagram, Ola, 40, shared a sweet throwback photo of her now two year old daughter Ella, showing the infant when she was four months old.
Captioning the pic, the former Strictly Come Dancing pro, wrote: "How cute is our little munchkin in this #throwbackthursday? You'll notice she has the same hairline as daddy!
"Can't believe this was two and a half years ago now. She was just 4 months old but already you can see the personality is there!"
Fans were quick to comment on the sweet snap, with one writing: "Beautiful memory ! They grow too fast! My baba is 4months old right now and i want him to be a newborn again !!"
While a second added: "Beautiful picture of you both," and a third simply wrote: "So cute xxx".
However one fan was somewhat critical of Ola, and her new fitness and weight loss routine, commenting: "And your were still beautiful there Ola.
"Well done your your new business you have started with James and I understand you have to put yourselfs out there to get it off the ground but it's now looking like bodyshaming .you have no reason to do this as your personality shines out through you."
Jumping to the defence of the dancer, another argued: "it doesn't come across as that at all. Both Ola and James only comment on themselves (unless a client gives them permission to show a before picture) and they are always focusing on how unhealthy they were, not other people, and how much better they feel now.
"I think they've both been very positive and motivating while constantly encouraging others to get fitter and healthy rather than just being skinny. They are inspiring to me and I'm sure many others."
James previously sparked controversy when he confessed that he prefers his wife "smaller" after the pair opened up about how they had put on weight following their retirement from dancing.
Having recently undergone a fitness overhaul, Ola has defended her husband after his comments sparked backlash.
Speaking to OK!, James and Ola discussed the backlash from these remarks, with James telling us: "People chose to be offended by it on Ola's behalf, which I find bizarre.
"Do I prefer my wife being healthier? Yes, I do. Does anyone want their wife to be miserable? No. Ola is so much happier now she feels herself again."
Defending her husband's comments, Ola added: "The comments were taken in the wrong way. After I posted the picture, a lot of people said there was nothing wrong with how I looked and that I seemed happy.
"I wasn't. I was fed up with putting the same old stretchy dress on when we were on holiday and James could tell I wasn't happy."
READ NEXT:
Click here for today's top showbiz news

Lydia Bright dotes on daughter Loretta as she enjoys beach day with lookalike sister and mum

Kate Garraway's 'wake up call' as GMB star ditches smoking for sake of her children: 'She hates the thought of them having two unwell parents'

Royals get back to work as they laugh off Prince Harry's bombshell Spare claims

For the latest showbiz exclusives, sign up to our daily OK! newsletter
Source: Read Full Article