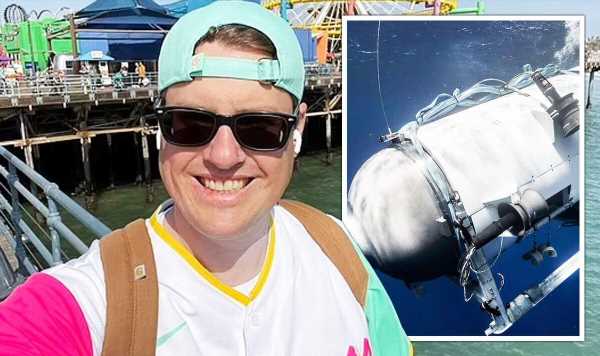 Porthole Of The Titan Submersible Has Been Lifted Off The Horizon Arctic
Brian Szasz has revealed he's been fired from his job over his controversial social media presence.
The stepson of Scottish billionaire Hamish Harding, who was killed in the OceanGate disaster, gained attention for his reckless online behaviour after the Titan submersible went missing.
"My boss fired me for my tweets!" he posted on Thursday.
One person pointed out he could live off his step-father's wealth, to which he replied: "I need to make money!"
"I will never spend a penny I did not earn myself at a job," he added later.
READ MORE A glimpse inside the family album of father and son who died on Titan sub
"I'm looking for a job, I've had positive work experience at Blockbuster Video."
However, Szasz claimed earlier that he had "millions to spare" in inheritance following Harding's death in a tweet that has since been deleted.
He even told one user he's about to receive "more than you'll make in a lifetime".
Although, another asked him sarcastically: "You sure you were written into the will?"
Don't miss…
Cobra Kai star calls on fans to promote DC superhero film during actors' strike[VIDEO]
John Cusack slams 'greedy studios using criminal enterprise to eliminate actors'[COMMENT]
Cheeky Sylvester Stallone, 77, grabs bikini of wife, 54, while messing around[PICTURES]
We use your sign-up to provide content in ways you've consented to and to improve our understanding of you. This may include adverts from us and 3rd parties based on our understanding. You can unsubscribe at any time. More info
Harding's stepson has yet to definitively confirm whether he'll be receiving an inheritance, though he claimed all the money will go to charity.
Szasz, who describes himself as an audio engineer, became notorious for attending a Blink 182 concert while the OceanGate sub was still missing in the Atlantic.
As the search continued, he then publicly messaged an OnlyFans star regarding a photo and later was seen asking for her support. 
He claimed he had high-functioning autism and was roundly criticised for his use of the n-word on Twitter.
The full extent of Harding's wealth is unknown, though he's widely agreed to be a billionaire as the owner of Dubai-based company Action Aviation.
Szasz will have to share any inheritance he receives with his step-brothers Rory and Giles, his sister Lauren and Harding's wife Linda.
Inheritance payments can also take up to two years to be received in the US, so it may be some time before Szasz gets the "millions" he claims are coming his way.
Source: Read Full Article