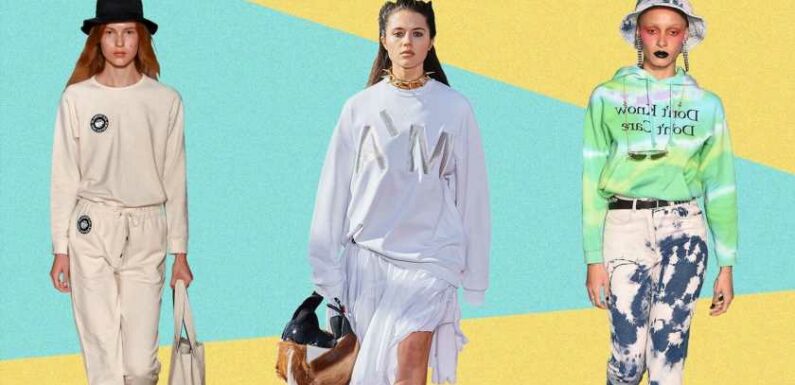 From pastel shades to slogans, here's our pick of the best statement sweatshirts to buy now and love forever. 
If you're still working from home the majority of the time, you may be struggling to find new outfit ideas. The brief is simple: you need something that feels every bit as comfortable as your favourite hoodie but won't leave you cringing with embarrassment when that fifth Zoom meeting of the day turns out not to be audio only. Enter the humble sweatshirt.
The style equivalent of a giant hug, the perfect sweatshirt is warm, comforting and feels like a cosy armour against whatever the day has in store. If you're thinking about the grey, frayed sweatshirt you have stuffed in a drawer somewhere, think again: this season's statement sweaters are not only ultra cosy but stylish too. 
From technical surf-inspired pieces to pastel shades and tie-dye prints, sweatshirts have been big news on the catwalks this season – and have proven popular among Instagram influencers, too.
You may also like
How the Stylist team are tackling working from home dressing
Tempted to try the trend for yourself? Styling a sweatshirt couldn't be easier. Wearing an oversized style in a bold colour is the chicest way to channel this look; just add your go-to jeans and trainers for an outfit that feels every bit as comfortable as loungewear, but looks infinitely more polished. 
Whether you're looking for a classic Acne Studios sweater or a quirky oversized polo in a playful pastel hue, we've found the coolest sweatshirts available to buy online right now. 
Best sweatshirts
Mila & Eve Heather Grey Cluster Stars Sweatshirt

Mila & Eve Stars Sweatshirt

Cosy, comfy and with enough jazziness to wear on Christmas Jumper Day but also subtle enough to wear beyond, Mila & Eve's Cluster Stars Sweatshirt can be worn all winter long. Made from a super soft cotton blend with a snug fleece lining, whether you wear yours with jeans and an oversized puffer for a winter walk or dress up with a metallic midi skirt for a catch-up with friends, the heather grey design is about to become one of the hardest working pieces in your wardrobe – whatever the time of year.

Shop Mila & Eve Heather Grey Cluster Stars Sweatshirt at The Drop, £34

BUY NOW
Limpet Store I Need A Nap Embroidered Sweatshirt

The Drop: Limpet Store I need a nap sweatshirt

"This is the slogan sweatshirt I've been waiting for – never has there been a more apt one for me," says Polly Knight, Stylist's style director. "I'm sure everyone has a friend who, like me, constantly moans about being tired – consider their Christmas present sorted."

Limpet Store's cosy, fleece-lined sweatshirt is imprinted with the saying that gets uttered across the nation on Sunday afternoons, while keeping you stylishly warm in the process. With embroidery coming straight from founder Emily Fluen's south England design studio, the playful loungewear staple is available in three go-with-everything colours – white, grey and black – and its oversized fit makes for a great WFH option too. Just remember to switch your laptop camera off if you happen to be wearing it in a meeting with your boss…

Shop Limpet Store I Need A Nap Embroidered Sweatshirt at The Drop, £35

BUY NOW

Paisie Striped Sweatshirt

The Drop: Paisie striped crew neck

If runway-ready loungewear was a thing, Paisie's striped sweatshirt would fit the bill. Available in six colours – including vibrant cobalt and subtle blush pink – it's the low-key way to embrace the enduring trend of stripes.

Whether you'll be wearing it IRL, French-tucked into the front of straight-leg jeans with an oversized blazer, or reserving it for at-home use and pairing with pyjamas, it's the exact amount of put-togetherness we're craving post-pandemic.

Shop Paisie Striped Sweatshirt at The Drop, £38

Buy now

Birungi Kawooya Art

Best sweatshirts: Birungi Kawooya Art

Inspired by Robert Indiana's iconic LOVE statue, artist Birungi Kawooya's navy sweatshirt is a wearable piece of design that aims to share good vibes. With work that's all about empowering Black women and girls and celebrating the beauty of the African diaspora, Kawooya is a name to watch.

Shop LOVE art sweatshirt at The Drop by Stylist, £39

BUY NOW

Ganni White Printed Cotton Sweatshirt

Ganni White Printed Cotton Sweatshirt

Featuring Ganni's signature smiley face design, this neutral sweatshirt is about to become your go-to layering wardrobe hero.

Shop Ganni White Printed Cotton Sweatshirt, £145

BUY NOW

Acne Studios Face-Patch Cotton-Jersey Sweatshirt

Acne Studios Face-Patch Cotton-Jersey Sweatshirt

Cut from soft cotton jersey to an oversized silhouette, this statement sweatshirt will look just as cool when styled with a midi skirt as it does worn with off-duty denim. 

Shop Acne Studios Face-Patch Cotton-Jersey Sweatshirt at Matches Fashion, £260

BUY NOW
H&M Printed Sweatshirt

H&M printed sweatshirt

Made from recycled polyester and cotton, this green sweatshirt represents the state of being you're probably trying (and failing) to emulate on busy WFH days. Grab it in a few sizes up to be extra comfy with leggings.

Shop H&M Printed Sweatshirt, £24.99BUY NOW

Cos Oversized Mock-Neck Teddy Sweatshirt

Cos Oversized Mock-Neck Teddy Sweatshirt

Working from home in your dressing gown at the moment? This cosy Cos sweatshirt is a chic alternative if you're resisting blasting the heating. 

Shop Cos Oversized Mock-Neck Teddy Sweatshirt, £69

BUY NOW
Images: courtesy of brands
Source: Read Full Article