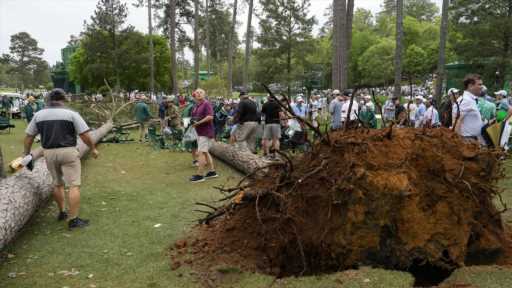 It was tree time instead of tee time Friday at the 87th Masters golf tournament in Augusta, Georgia.
The venerated tournament was suspended this afternoon after several trees crashed down on the course near the spectator area. No injuries were reported.
Tournament officials said three trees were blown over on the left side of hole 17 because of wind. That meant the matches were"officially suspended for the rest of the day" and the grounds were evacuated. The tournament will resume on Saturday at 8 AM ET.
The live telecast captured the moment the trees fell. Despite dozens of spectators in the area, the trees missed the crowds.
The National Weather Service forecast thunderstorms in Augusta on Friday afternoon, but did not indicate any high wind warnings.
At the time play was suspended, Brooks Koepka lead the field at -12.
Must Read Stories
WGA-Studios Talks Could Extend Into Next Week; Strike Authorization Vote Begins Tuesday
'Snowfall' Star Damson Idris Joins Brad Pitt In Apple's F1 Racing Movie
Lawmakers Want DOJ To Investigate WBD Merger, Cite Axing 'Batgirl' In Their Letter
Netflix Cancels Sarah Shahi-Starring Series 'Sex/Life' After Two Seasons
Read More About:
Source: Read Full Article