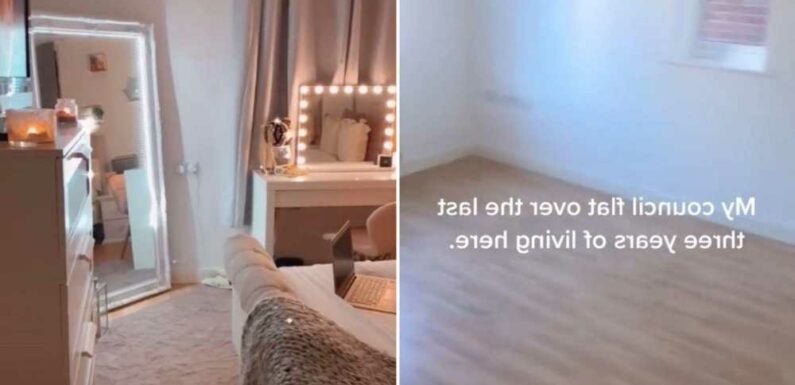 A WOMAN has revealed that she moved into a council flat and has given her plain bedroom an epic transformation. 
Laura Treadgold explained that she went from living in a single furnished room and so when she moved into her new home, she had barely anything to decorate it with.
However, Laura has spent the last three years decorating her bedroom and has turned it into a beautiful haven. 
Taking to TikTok to show off the bedroom makeover, she posted her clip with the caption 'Slowly upgraded my council flat over the last three years after moving in with almost nothing!'
At the start of the clip, Laura showed off her plain council flat, as she said: "My council flat over the last three years of living here."
The walls were painted white but it was very bare and needed some TLC. 
Read more home stories
I gave my trampy council house stairs a DIY transformation & people are shocked
I gave my council house a transformation on a budget with B&Q bargain buys
She explained: "To be fair it was a nice flat but when I moved in I moved from a single furnished room in a shared house and so I had nothing!"
She later shared how her bedroom looks now, after the transformation, as she added: "Redecorated my bedroom, I'm in love."
What was once a very plain room with nothing in it has been epicly transformed by Laura.
She furnished the room with a beautiful grey bed, a large mirror and white storage units.
Most read in Fabulous
Harry & Meg break silence on South Park episode & slam claim they plan to sue
I tried the M&S £10 roast dinner & I'm astounded – it's cheaper than Tesco
Woman who is UK size 16-18 did a huge M&S haul & found the perfect dress
I tried everything to tackle mould – finally a Home Bargains buy shifted it
Laura has a large white mirrored wardrobe with chic gold handles.
She even hung items on the walls with beautiful plants to add depth to the bedroom. 
Not only this, but she even has a beautiful dressing table with a fabulous Hollywood mirror and a comfy chair.
Laura confirmed that she got her light up mirror from The Range for £83 and bought lights from Shein for only £4.99.
Laura's video has clearly impressed many, as it has quickly amassed 43k views.
It has 1,254 likes, 23 comments and 21 shares.
Social media users were very impressed with Laura's bedroom transformation and took to the comments to express this. 
One person said: "You did well, it's very pretty."
Another added: "Ahhh my daughter would love this."
Read More on The Sun
Boots makes big change to 2,247 stores pulling essential products from shelves
ITV confirms future of popular show after a year off screen
A third commented: "Love the big mirror." 
Someone else noted: "I love the chunky knit blanket!!"

Source: Read Full Article