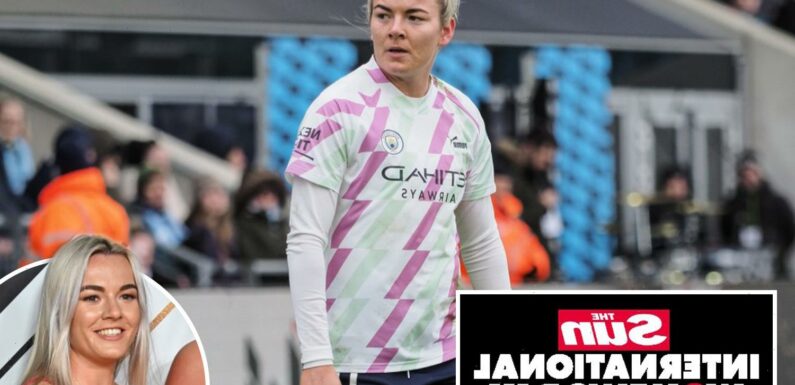 THE roar of the crowds at Bristol's Ashton Gate stadium at last month's Arnold Clark Cup win is something that the Lionesses are becoming used to.
Following their historic win at the Euros last year, something that the men's team has never achieved, support for women's football has gone through the roof.
The England team has experienced record turnouts, players have signed lucrative sponsorship deals and key matches are finding their ways onto live TV for the first time.
However, while the newfound hype is more than welcome for the team's players it's been a long time coming.
For Lauren Hemp, forward for England as well as her current club Manchester City, the surge in interest and opportunity for young players is the result of years of battling prejudice in the industry.
Speaking exclusively to Fabulous for International Women's Day, Hemp, 22, says that growing up the sport felt out of reach to girls.
read more on lifestyle
I left school at 16 – now I've got an international business & Lambo
International Women's Day: The Sun's new campaign redefines womanhood
"I had always loved football," she says.
"I'd play with my older sister Amy in our back garden and my family through their support behind me and encouraged me to keep going.
"But back then there wasn't a girls team in school or anywhere nearby for that matter so I had no option other than to play for the local North Walsham FC boys team.
"There was me and one other girl, and while I never had a problem with that, the boys found it a bit odd I think and the ones on the opposite team obviously weren't keen on us beating them."
Most read in Fabulous
I'm a teacher & saw the worst appreciation gift ever – it's so disrespectful
I'm almost an OAP but men in their 20s hit on me, my secret is Aldi
I feed my family-of-5 for £15 a week…here's what I get & the cheap recipes too
I'm a hatfish – my attractiveness plummets when I don't wear my cap
However, Hemp, who is set to compete in the Women's World Cup in says that fellow players were the least of their worries.
"It was the coaches that made the worst comments from the sides and even parents of the other players," Hemp says.
FABULOUS BINGO: Get a £20 bonus & 30 free spins when you spend £10 today
"It just wasn't the norm back then as it was now and people often had something to say about it which a lot of the time, sadly, was negative."
At the age of ten Hemp joined Norwich City's Centre of Excellence and after five years, she returned to North Walsham FC's boys' team when the Canaries' centre closed.
But with opportunities in women's football dwindling in her areas, Hemp made the difficult decision at age 16 to move five hours away from her family to pursue her passion.
It wasn't until months later that we even realised how much of an impact the win had actually made.''
"I think it was quite hard for my parents because normally a kid wouldn't leave home at such a young age," says Hemp.
"We had to make a lot of sacrifices as a family for me to be able to move away and find a decent women's team that I could become successful in."
And successful she was, winning England Young Player of the Year in 2017 signing with Manchester City the following year beforing moving on to a bronze model in the Women's World Cup in 2018.
But of course Hemp's greatest success to date is starting in all six games that took the Euro 2022 trophy to home soil, an achievement that is still sinking in for the footballer.
"It was just absolutely unbelievable," she recalls.
"It wasn't until months later that we even realised how much of an impact the win had actually made.
"We were just buzzing and in such a bubble of focusing on the job that we didn't realise the significance.
"Just the amount of young girls who want to be involved in football now is phenomenal and worlds away from what I grew up with.
"It's no longer just our families showing up at games either, we're getting whole stadiums full of people which totally changes the atmosphere of the game.
"And of course getting recognised took some getting used to."
But despite the huge boost in support for the women's sport, female football players still remained victims of vile sexist abuse throughout the Euros and beyond.
We're just as important as the men's team.''
A recent survey by #HerGame found that 91.9% of respondents had witnessed sexist abuse towards women in football.
Hemp says it's hugely important for not only players but fans to call out sexism in the battle for equality.
"There's always going to be comments, and I think us being successful is only going to attract more of that kind of attention," she admits.
"We're all doing the same job (as men) and we want to keep growing year on year without becoming targets of that.
"It's incredibly easy to hide behind a screen and it's so important that we raise awareness of this and call it out when it does happen to make it known that this is not acceptable."
The Lionesses have long proven themselves to be more than worthy of the same support and resources as the men's team but a lot needs to change before true equality is reached as Hemp is well aware.
"Women's football is a long way off from being equal to men's," she says.
Read More on The Sun
We won £182M EuroMillions jackpot… but it all ended in devastation
We were charged £200 for cancelling a family pub lunch at the last minute
"We're always striving to bridge that gap and as the years have gone by the game has continued to grow and it's important that we keep growing and empowering women on days like today.
"We're just as important as the men's team and we have showcased that and that should be remembered every day, not just today."

Source: Read Full Article