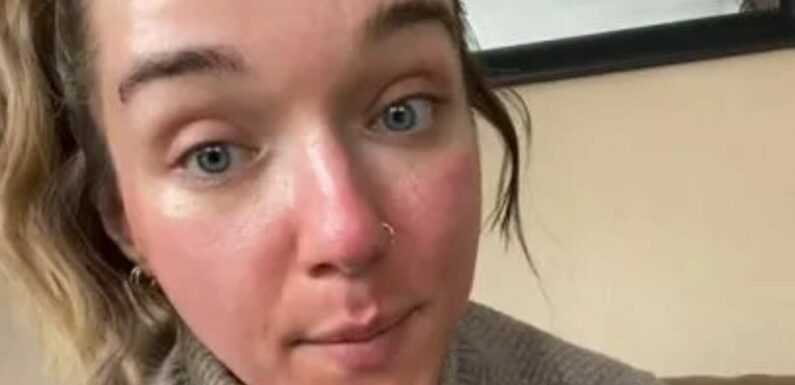 A WOMAN has shared her experience with thin privilege after losing a whopping 11 stone. 
Amber, who has since become a weight loss coach, explained that she always knew thin privilege was real, but has continued to realise different levels of it after shedding over 160 lbs. 
Looking fresh-faced in a knitted jumper for the video, the TikTok user launched into her story as she said: "As someone who was fat her entire life and then lost 160 pounds, I need to talk about one of the craziest examples of thin privilege that I didn't even realise was a thing really until I lost the weight." 
She then explained that there is a "crazy amount of pressure" placed on the plus size community to always look their very best while out. 
Giving an example, Amber said: "You have to basically compensate for being in a bigger body by dressing up… You can't do the whole casual thing." 
Putting a disclaimer over the video to explain why her face was slightly red on the screen, she shared: "I had a skin peel done and it's inflamed and red. 
READ MORE ON WEIGHT LOSS
Men told me I 'wasn't their type' before my weight loss glow up
I paid £3.5k for surgery in Turkey & lost 7 stone…people say I look like Cheryl
"I also never would have gone out without a FULL face of make-up on when I was 300 pounds because of the need to always look PERFECTLY ON POINT". 
She then explained that she would have never gone out with no make-up on and slightly inflamed skin when she was 300 pounds. 
"Because when you're in a bigger body and you're not immaculately dressed and you don't have your make-up done like perfect, people think you're sloppy or you don't take care of yourself or you're lazy," she shared. 
Calling this "messed up," she went on: "I was always jealous of my friends who could go out looking super casual and no one batted an eye at them. 
Most read in Fabulous
Full English should NOT contain popular item, experts say – do you agree?
Shoppers love Matalan's new Spring range – but they all have same complaint
I thought I'd got the perfect wedding guest dress but everyone said the same
I have the best tricks to make the house smell great before guests arrive
"But if I did it, I could just tell people were thinking, 'Oh my God, she really doesn't take care of herself'." 
"It's so messed up," she said as the video came to an end. 
In the caption, she added: "If you don't think #thinprivilege us real, you're not paying attention." 
Many of her viewers could relate to everything she said as one person shared: "Absolutely. When I wore sweats at 300lbs I was told how messy it looks. Now I'm told my sweats look stylish & cute. Like COME ON." 
Another person said: "I've tried to explain this to my straight sized friends. They don't understand why I can't just "run to the store" or to brunch without getting ready". [sic] 
A third explained: "I lost 92lbs and the number of people who now wanted to be my friend that weren't interested before…was shocking! Thin privilege is so real". 
While a fourth added: "That is super true. I am older and 50 lbs heavier and people look through you or you get the stink eye." 
Source: Read Full Article