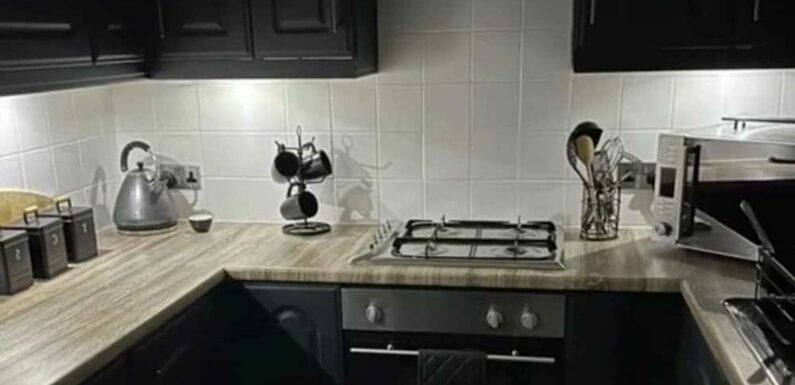 A YOUNG woman has revealed that she gave her plain kitchen the ultimate transformation in just 48 hours, whilst on a budget. 
She explained that she spent just £80 in total and thanks to bargain buys from B&M and B&Q, her kitchen has been given an epic overhaul. 
Libbie O'Carroll took to TikTok to show off the impressive makeover, leaving users open-mouthed.
She shared her clip with the caption '£80 upgrade in 48 hours!' and showed off the cheap DIY process.
To start with, Libbie's kitchen had white cupboards and marble-look worksurfaces.
We then saw Libbie get to work as she began painting her cupboards black.
Read more home stories
I'm a DIY whizz – my easy hack to make your own headboard for just £4
I gave my bathroom a makeover with cheap buys from Amazon & Facebook Marketplace
She added some new glamorous cupboard handles too, which she had spray painted to give a fresh new look.
But not only this, Libbie had picked up some vinyl wrap to completely transform her worksurfaces.
Showing off the finished look, the kitchen was quickly transformed, with just a lick of paint and a new worktop look.
Libbie confirmed that she picked up paint from B&Q, from Rust-Oleum in the shade black sand.
Most read in Fabulous
I turned a £55 IKEA unit into a bunk bed for my daughter – it was so easy
I work at Aldi – what's on special today including a Shark hoover dupe
I've put my 18-month-old in nursery… people say he's too young, I need a break
I got a great gift for my kid's teacher, til everyone said it's 'creepy'
She also explained that she picked up the vinyl wrapping from B&M for just £9.99 a roll. 
Her budget kitchen transformation video has clearly impressed many, as it has quickly amassed 77.6k views.
It has 2,708 likes, 93 comments and 119 shares. 
Social media users were left open-mouthed at her new kitchen and were eager to express this in the comments.
One person said: "That looks amazing."
Another added: "Wow!" 
A third commented: "This is the best one I've seen yet."
Whilst someone else noted: "Looks lovely. I would love to do this but I know I would mess it up."
Read More on The Sun
Fashion fans are going wild for bargain M&S dress that's so 'flattering'
People are just realising what red stars on Home Bargains price tags mean
To this, Libbie responded "Thank you so much!! I thought the same but If I can do it anyone can!" 
When asked about the process of wrapping the worktops, Libbie explained: "It was hard, I stormed off two times but it took two of us to finish it in around two and a half hours and I'd do it all again for the finish." 
Source: Read Full Article