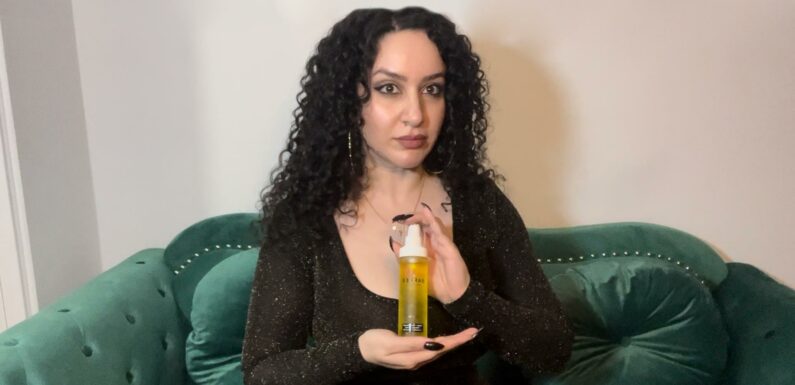 CBD has become a go-to ingredient in wellness due to its effectiveness in combatting inflammation.
I myself am a believer in the benefits of CBD, but would these celeb-endorsed skincare products live up to the hype?
I typically use a CBD-infused body oil, which also contains magnesium and helichrysum. I apply the product post-workout as well as before bed for a relaxing and calming effect.
For this piece, I tried several formulations of topical CBD including: a whipped body butter by Kristen Bell, a face moisturizer by Travis Barker, a body oil by Travis and Kourtney Kardashian, as well as a nighttime lotion by Martha Stewart.
HAPPY DANCE
First, I tried the $30 whipped body butter by Kristen Bell's brand Happy Dance.
The consistency of the product felt excellent on my skin and absorbed well.
My skin felt nicely hydrated throughout the day, which was a huge plus for me during cold New York City months.
While I enjoy the product itself, there is some fragrance which I found off-putting. I will not be repurchasing the body butter.
BARKER WELLNESS
Blink-182 drummer Travis Barker released a CBD-infused skincare line.
I tried the daily moisturizer for the face as well as the CBD body oil — a collaboration with his wife Kourtney Kardashian.
Most read in Lifestyle
Ferne McCann pregnant with second child after engagement to Lorri Haines
Deadly shipment of uranium seized at Heathrow destined for UK-based Iranians
Liverpool legend Steven Gerrard offered Poland job after Aston Villa sacking
We drove four hours to go to the UK's biggest B&M – it was so worth it
The daily moisturizer promises to "calm, soothe, and hydrate" the skin.
I found that the moisturizer may have been a bit too "hydrating" on my combination skin, leaving it feeling a tad greasy, but those with dry skin may appreciate this formulation.
I also tried the Kourtney x Barker Wellness body oil, retailing for $40. Given that my go-to CBD topical is also a body oil, my standards were high.
The Kardashian-inspired body oil absolutely exceeded my expectations, absorbing well into my skin, and relaxed my muscles.
MARTHA STEWART SLEEP SCIENCE
Martha Stewart partnered with CBD industry leader Canopy Growth to create a line of her very own CBD topicals.
I tried the $20 Sleep Science cream and it delivered exactly what I needed.
The lotion is formulated with lavender, vetivert, and patchouli — essential oils which can promote relaxation.
I certainly felt relaxed as soon as the scent hit my nose and felt that the product itself did live up to its promise to deliver a more restful night's sleep.
WHY CBD?
Studies show that CBD decreases inflammation in the body, which may lead to an array of benefits including anti-aging, alleviating skin conditions, and even pain relief.
Many turn to the plant extract as a cure-all and a staple in alternative medicine.
Read More on The Sun
Little-known middle aisle tricks by Aldi & Lidl to get you to spend more
Sky is giving out set-top box upgrades for free – are you eligible?
Although CBD products are typically THC-free, some contain trace amounts of the psychoactive compound, making CBD products a contentious choice for some.
I would recommend CBD topical products to anyone who is struggling with muscular pain and is looking for a less-invasive painkiller with minimal side-effects.

Source: Read Full Article