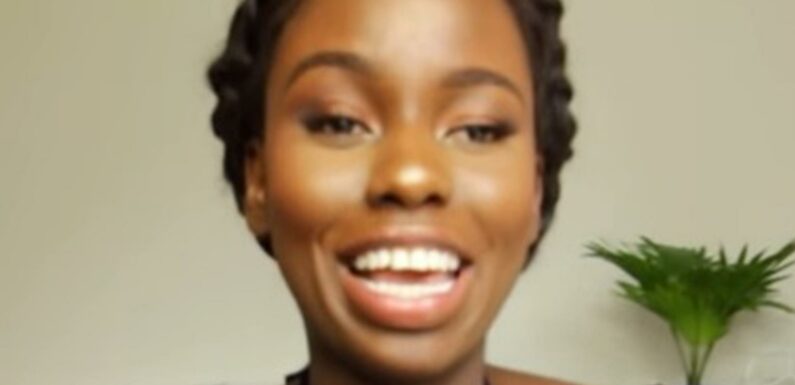 A WOMAN has shared her three hacks for "no more saggy boobs" when going braless and backless.
As Spring Break approaches, more and more women are hoping to find out how they can ditch the bra without sacrificing the perky look, especially when wearing backless dresses and tops.
A number of women are also boycotting the uncomfortable undergarment as the "free the nipple" trend takes off.
YouTuber Lydia Dinga (@lydiadinga) won YouTube Creator Choice of the Year last year and is showing women her boob hacks.
In her video, Lydia explains for reference that her bra size is a 34B or 34C "depending on how the wind blows and whether aunt flo is visiting."
She introduce the video saying: "My t****** be looking extra perky, extra beautiful, extra round, and I'm wearing a backless dress – how'd you do that?"
read more on the no bra club
A look at the life of Hollywood legend Kurt Russell – movies, fortune and kids
Arsenal vs Liverpool: Live stream, TV channel, kick-off time and team news
Lydia first tells viewers how to prepare for her boob hacks and she uses a wipe to clean her chest.
"First, make sure your chest is nice and clean, free from any lotion, free from any oils," she said.
She then shows herself wearing a backless, midnight blue dress with a low-cut front which initially shows no cleavage.
"What I want to do is just lift them up a little bit and just have something that looks a little bit cuter," she said.
Most read in Lifestyle
Strictly's Giovanni Pernice & Jowita Przystal call it quits after romance
Watch emotional moment groom cries after Dysart Dynamo survives horror fall
Dreamboys boss dead after being jailed for trying to kill ex who kissed star
Katie Price reveals most shocking tattoo yet – with THONG inked on bum
Using body tape, she used a semi-circle one and attached it to her breast "right in the middle."
She continued: "Then stick half of the tape on your boob and then lift the breast up and then stick the other half at the top which allows you to have a bit of an uplift for the girls.
"Depending on how big your boobs are, you might need to add some extra pieces of tape just to help lifting and holding the babies up."
She then rubbed the tape into her skin and removed the adhesive on the other side to stick to her dress to keep everything in place.
Lydia's second hack was using breast lift tape which works in the same way.
The breast lift tape used by the YouTuber has more adhesive coverage for more support.
The tape she uses fits over the top half of the breast with a cut out semi-circle so it avoid the nipple.
Lydia explained: "Take off only the bottom part and then stick that on your t**** around your nipple, once it's stuck on your boob you just basically want to lift it up and once you've lifted it to where you want it to be, you just take off [the second half of the adhesive] and stick it there."
She explained that using breast lift tape is her "favorite method of hoisting my boobs up," adding that it's comfortable and works for a number of neck and back lines.
Finally, she tried on a skimpy hot pink dress which was cut down to just above her belly button.
For this kind of dress she said that the above methods do not work because you can see the tape.
For such a dress, she advised using duct tape or athletes tape for a more skin-friendly product.
Without the tape, her breasts looked "flat and not exciting" in the daring dress.
Lydia explained: "Make sure that you've covered your nipples using some nipple covers, and then take the duct tape and put it underneath your breast.
"Then pull your breast up in the position that you want it to be on and then lift the tape right over [the breast] and stick it at the top."
For a dress that thins out at the top such as a halterneck, she said to taper the strips of tape to fit within the dress.
She added that you may want to add double-sided tape to the dress and the duct/athlete tape in order to secure everything together so the tape does not show.
For all of her boob hacks, the YouTuber advised using coconut oil to remove the tape by lifting a bit and rubbing the oil in.
At the end of the video, she jumped up and down with her breasts duct-taped to her chest and they held in place despite her movements.
Viewers praised Lydia for sharing her "excellent" hacks with many vowing to try them and saying "you are G!"
One wrote: "Loved it! Wish me luck! I want to go braless but feel secure at all angles.
"The jumping sold me and encouraged me to give it another try.
"Especially, since swimwear season is fast approaching. Cute tops here we come!"
One added: "Thanks so much Lydia – you are G! I'm wearing a backless dress for my graduation ball and my boobs just looked awful.
"Definitely to get myself some of that tape!"
Read More on The Sun
BBC sitcom AXED after just one season
Dumped Love Islanders mobbed by fans as they land in UK after missing final
Another said "this hack just saved my life" ahead of a formal event.
Source: Read Full Article