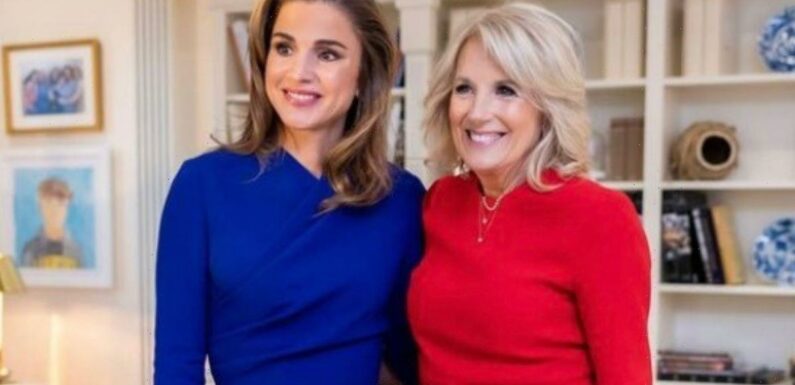 We use your sign-up to provide content in ways you've consented to and to improve our understanding of you. This may include adverts from us and 3rd parties based on our understanding. You can unsubscribe at any time. More info
Queen Rania yesterday, February 1, met with the First Lady of the United States, Jill Biden. The two women looked stunning as they posed together for photographs.
Rania wore a sophisticated bright blue wrap dress with long sleeves.
It was the Wrap-Effect Pleated Crepe Midi Dress by Elie Saab, which seemed to be a new addition to Rania's wardrobe.
The dress is currently available to buy on online fashion retailer Net-a-Porter for a huge £1,600.
The website described the garment, saying: "Elie Saab's midi dress was styled with tonal over-the-knee boots at the Fall '22 show, and it'll look just as chic with classic pumps.
"Made from striking royal-blue crepe, it's designed with a wrap-effect bodice and skirt and has a draped panel that cascades along the thigh-high split."
The dress is a bright, royal blue and seemed like the perfect outfit choice to meet with a head of state.
Rania matched the garment with a pair of Gianvito Rossi blue suede heels, called the "Gianvito 105" Electric Blue Suede Pumps.
Gianvito Rossi is a popular designer among royal circles and European royals from Queen Maxima of the Netherlands to Queen Letizia of Spain own his designs.
To complete her look, Rania carried a Dolce and Gabbana bag called the "Sicily", which was grey with gold detailing.
Her hair was styled in waves over her shoulders in its usual do and she wore a little make-up – eyeshadow, lashings of mascara, and a pink, glossy lip.
As for Jill, the American First Lady opted for a red dress, thus the two women made up the two main colours of the American flag.
Jill's dress had a tight bodice and a skirt that floated outward at the bottom, with a pleated hemline.
View this post on Instagram

A post shared by Queen Rania Al Abdullah (@queenrania)
It also had a belt that cinched in the waist and three-quarter sleeves.
The bright red dress was by Brandon Maxwell, an American fashion designer.
Jill paired it with matching red heels, called the "Mina" red suede pumps, by Marion Parke.
Fans of Jill and Rania were quick to comment on their outfits, praising their classy looks.
View this post on Instagram

A post shared by Queen Rania Al Abdullah (@queenrania)
Instagram user @stephanie_kel74 wrote: "Beautiful." User @ciaramquill commented: "They both look fab, those colours look gorgeous side by side."
User @miss_flora.g said: "The vibrant colours are so beautiful! I'm a sucker for monochromatic looks!"
User @jasfin commented: "Wow that blue dress. Proves you can dress modestly but not boringly."
User @luxmeagainpreloved added: "Stunning looks – beautiful colours on both ladies. Very patriotic! The Elie Saab details are amazing. Rania is gorgeous and Dr Biden just beautiful."
Source: Read Full Article