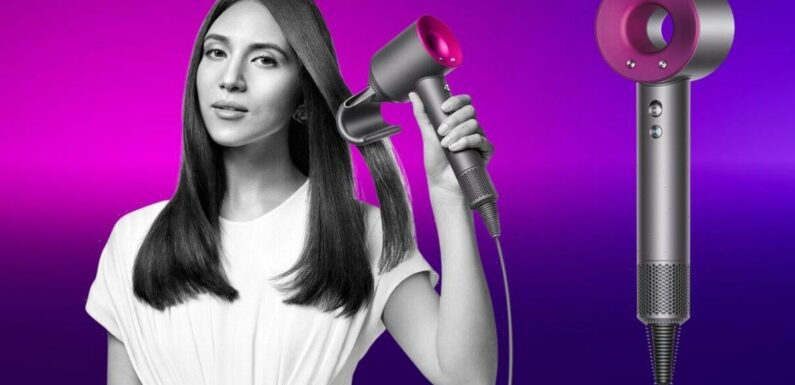 We use your sign-up to provide content in ways you've consented to and to improve our understanding of you. This may include adverts from us and 3rd parties based on our understanding. You can unsubscribe at any time. More info
The Dyson brand has been a big name in retail for many years, but the launch of its hair care section saw the products become extremely popular with shoppers.
Dyson hair dryer
£359.99 from £280.49 View Deal
The hair dryer includes five magnetic attachments for varying hair styles, and uses innovative technology to regulate heat and avoid extreme damage to hair. Boots is offering 15 percent off the dryers from 7-9pm on Friday 9th December, plus over £40 of advantage points.
Dyson's hair tools are some of the most premium on the market, with the full prices of the hair dryers and air wraps inaccessible to many.
The Dyson Supersonic™ hair dryer will have 15 percent off tomorrow, Friday 8th of December, from 7-9pm only using code DYSON15 at checkout.
Boots is also offering £10 of advantage points per £60 spend, so when purchasing the hair dryers, shoppers would get over £40 in advantage points.
When using the 15 percent off, the original Dyson hair dryers will be reduced from £329.99 to £280.49 and qualify for £40 of advantage points, while the special edition hair dryers will be reduced from £359.99 to £305.99, and qualify for £50 of advantage points.
Buy: Dyson Supersonic™ hair dryer (from £280.49)
The innovative dryer comes complete with five magnetic attachments including flyaway, gentle, concentrator, diffuser and wide-tooth comb nozzles.
The device measures the air temperature over 40 times a second to ensure heat is regulated and to prevent extreme heat damage.
There are five different colour options to choose from, including Black/Nickel, Nickel/Copper, Iron/Fuchsia and Fuchsia, plus the special edition Vinca Blue/Rose.
With Christmas around the corner, the discount has come at a handy time, especially as Dyson hair tools rarely get reduced.
Reviews have been racking up on the Iron/Fuchsia hair dryer, with 92 percent of customers saying they would recommend to a friend.
Jackie said: "Love this hairdryer, light and easy to use and very stylish."
A Mcshane commented: "Amazing hairdryer, I wish I'd bought one before! My hair is sleek and shiny. My husband thought I'd had it straightened but it was just the hair dryer. It's well worth the money due to looks and time saved."
Bonny also added: "I was so happy to receive this hairdryer as a present, it's lightweight to use and dries my unruly hair quickly without any frizziness. I love the hair attachments that came with it…the smoothing one especially!"
Source: Read Full Article