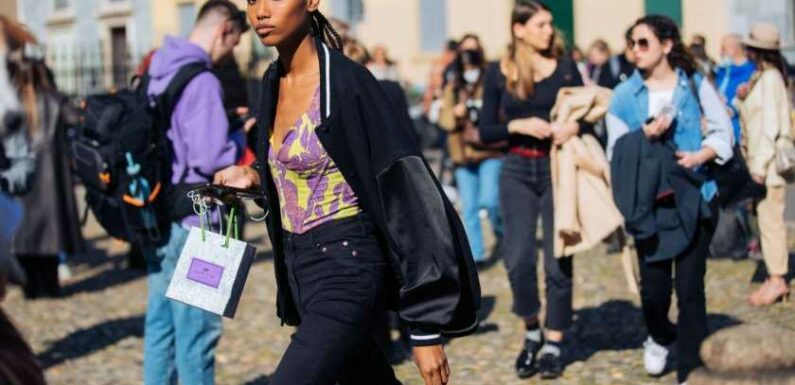 Written by Naomi May
Sustainable T-shirt company Teemill is paying people to return its clothes to them in order to reverse the consumerist wave of Black Friday. 
Ahead of the arrival of the most wonderful time of the year comes, arguably, one of the less wonderful times of the year, at least in the eyes of sustainable fashion stakeholders.
Black Friday, which takes place on or over the weekend of 25 November – the Friday after the American holiday of Thanksgiving – refers to the period each year when retailers offer a range of highly promoted sales. What began as an American tradition has now spread its wings to British shores, and last year alone, the UK was reported to have spent £9.4 billion over the course of the Black Friday weekend.
In a bid to counter the excessive and overly consumerist nature of the annual event, Teemill is encouraging its customers to return its products to them, in exchange for £5 credit to spend on future purchases.
Black Friday 2022 is expected to create a spike in sales for brands.
The company is able to offer the initiative through its Remill process, through which they create new pieces by regenerating old collections. Remill has, according to the brand, diverted 30,000kg of organic cotton from going to landfill, saving both 1 million kg of CO2 emissions and 586 million litres of water.
"Black Friday is a symptom of how waste has been woven into the way our world works," Teemill co-founder Mart Drake-Knight says. "Products have been designed to be thrown away, meaning the only way to create growth is to make and sell more products and create more waste. It fuels climate change and destroys nature. We built Teemill to solve that issue."
Teemill is paying customers to return its old products to the business in return for money.
The move from Teemill, which has produced T-shirts for Bella Freud and Vivienne Westwood among others, comes ahead of this year's Black Friday, which will, once again, produce highly lucrative sales for brands across the country.
Teemill was founded in 2009 and in the years since has established a circular business model that enables burgeoning brands to effectively create and produce conscious collections. Essentially, it has streamlined the conscious fashion cycle, and in 2019, it launched its first circular collection based on regenerative cotton. The brand's goal is to have regenerated 100 million items as part of its Remill initiative by 2027.
Images: Getty, Teemill
Source: Read Full Article