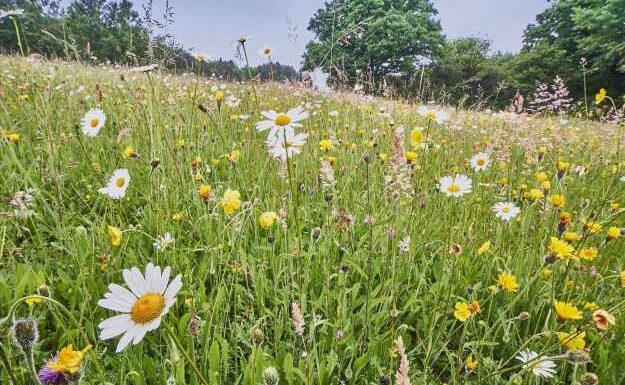 GARDENERS have been issued an urgent warning about installing wildflower turf.
Experts have warned gardeners who install wildflower turf in a bid to spruce up their garden and help pollinate insects may actually do more harm than good.
The Turf Growers Association has explained that by laying wildflower turf, people may unleash microplastics into the ground.
This happens as the majority of it is being laid on plastic netting.
The alternative would be to plant it individually which is more time-consuming and may take years.
Richard Owen, the chairman of the TGA, told the Telegraph: "It is very difficult to quantify exactly how much turf is laid in the UK, but it is likely that a significant amount of plastic turf netting is being put into the ground each year."
read more on gardening
We're gardening experts – here's all the jobs you need to do this January
I'm a gardening pro – four ways to reuse old Christmas trees in your garden
"This causes problems for wildlife, for farmers on whose land the turf is grown, and most seriously, it decays into polluting microplastics that can leach into watercourses and get into the food chain.
"It is for this reason we are encouraging our members to stop using single-use plastic mesh in their turf by 2025 and support calls for an industry-wide cessation."
Stephen Fell, the owner of Yorkshire-basedLindum Turf agreed and said there has been an increase in sales of plastic-free wildflower turf in the past years adding that it is the "only quick, easy, and reliable way to create a wildflower meadow which not only provides a beautiful spectacle to look at, it increases biodiversity and attracts vital pollinators."
In other gardening news, a green-fingered expert has shared his tips on how to spruce up your home during winter and save some cash.
Most read in Fabulous
Woman shares clever trick to dry clothes with no tumble dryer in under two hours
Model who kissed teenage Harry refuses to say if she took his virginity
7 questions Harry still needs to answer – including identity of older lover
I'm a royal expert… what Harry won't say about rivalry with 'arch nemesis' Wills
These gardening experts have revealed all the jobs you need to do in January to maintain your garden.
And this expert has shared four ways to reuse your old Christmas trees.
Source: Read Full Article