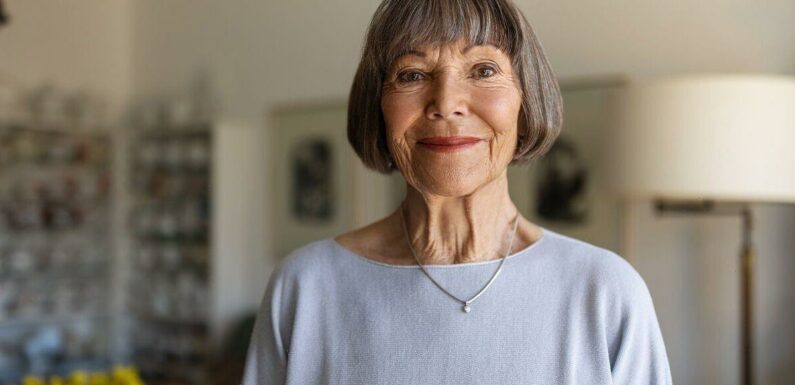 Charlotte Tilbury makes woman feel '20 years younger' with makeover
We use your sign-up to provide content in ways you've consented to and to improve our understanding of you. This may include adverts from us and 3rd parties based on our understanding. You can unsubscribe at any time. More info
The cut, colour and style of your hair can go a long way to creating a more contemporary and youthful look. However, some common hair styling features could be drastically ageing you, according to a hairdresser.
Hairstylist and make-up artist Dana Tate shares styling tips and tricks on her TikTok page @thedanatate. In a recent video, she revealed that some common mistakes can add up to "10 years" onto a person, and some simple changes could knock years off.
"Stop doing these things with your hair if you want to look younger," she said. While covering up your greys with hair dye might seem like the best way to create a more youthful look, picking the wrong shade can be detrimental. "Hair colour that's too dark for you is not doing you any favours," she said.
"Even if you love dark hair try a few face-rimming highlights to brighten up around your face and make you look at least 10 years younger." As well as the colour of your hair, the style you choose can go a long way in creating a younger look.
@thedanatate Your hair might be aging you! #hairtutorials #hairtok #hairtips #antiaging #lookyounger #agebackward #PradaBucketChallenge ♬ original sound – thedanatate
As a result, Dana urges people to avoid cutting their fringe too short. She said: "Stop wearing super short bangs. It's a no."
A super short, blunt fringe is a bold style choice, but it's one that might not work for everyone. Before committing to the chop, it's a good idea to consider what fringe might suit you best. A full fringe can be worn either halfway down the forehead, resting on the brow or slightly longer.
Your face shape can help to dictate the right length fringe for you, however, personal preference is also key. If you don't like wispy bits of hair getting into your eyes, you may prefer a fringe cut to the eyebrows or just above.
DON'T MISS
Face yoga routine to eliminate your double chin naturally [INSIGHT]
Try '60 second' tip to de-puff eyes and get rid of dark circles  [COMMENT]
Look younger using 'easy' makeup tip to 'get rid of' mouth wrinkles [EXPLAINER]
In the comments section of her video, Dana complements a "side swept fringe" coupled with high or low lights. However, opting for a haircut which requires a lot of hairsprays to hold it in place might also have an ageing effect. Dana said: "All of that hairspray giving you a helmet head, it's also making you look older."
Instead of going to town with the hairspray, you should instead cover your head evenly in a light dusting. Hold the nozzle of the canister around 15cm away from your hair and make sure not to focus the spray on just one area. By moving the can as you spray, you can ensure the product doesn't intensely build up in one area.
Three trending hairstyles in 2023
The bob
The bob is a classic haircut that is set to be bang on trend in 2023. Sam Burnett, hair stylist and owner of Hare and Bone, told Express.co.uk a bob can be a "striking" option when cut to sit "between the cheekbone and jawline in length". For a particularly graphic bob, he recommends minimal layers.
The bob can also be combined with a fringe of any length to suit your face shape.
The glamorous blowout
While shorter hairstyles may be in vogue, long locks are here to stay. Celebrity hairstylist Jay Birmingham, who has worked with stars including Khloe Kardashian, Amanda Holden and Rochelle Humes, told Express.co.uk: "Popular during 2022, the glam girl blowout aesthetic is not going anywhere in 2023."
The bouncy blowout sees long hair styled to add volume and often a slight curl.
The choppy layers
With the 2000s coming back into vogue, choppy layers common of the era are also likely to return. Stylist Sam Burnett said: "If you're feeling on the cautious side you could opt for a statement fringe or face-framing layers.
"Think choppy and razor-cut bangs that highlight your eyes and cheekbones."
Source: Read Full Article