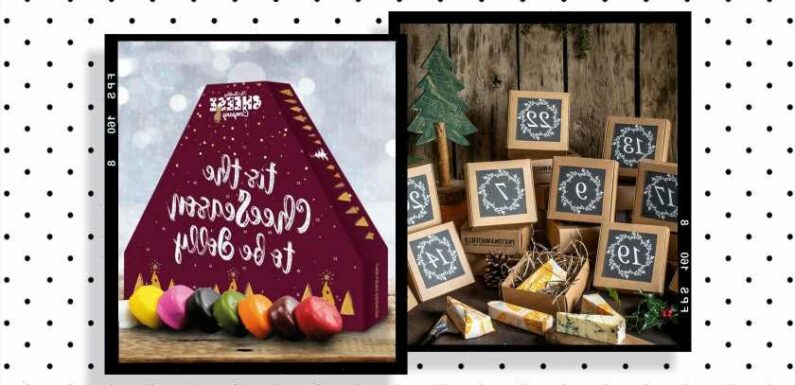 All products on this page have been selected by the editorial team, however Stylist may make commission on some products purchased through affiliate links in this article
Enjoy some cheesy goodness this in the build-up to Christmas with these spectacular cheese advent calendars.
You can get an advent calendar to suit every kind of interest these days, but no type of calendar is so delightfully niche as the cheese advent calendar.
Long gone are the days when fromage-lovers were forced to face a chocolate-filled Christmas countdown – nowadays, you can get in the festive spirit with the help of a calendar packed with varieties of cheddar, brie and stilton.
Of course, a cheese advent calendar isn't for everyone – and even some of the most dedicated cheese lovers may not be up for 24-days worth of cheese. But if you fancy mixing things up this Christmas, then a cheese advent calendar could be just what you're looking for.  
You may also like
33 best beauty advent calendars for Christmas 2022, including Harvey Nichols, Mac Cosmetics and Jo Malone London
Intrigued? We've scoured the internet to find the best cheese advent calendars available for Christmas 2022. Keep reading to check them out in all their glory (and make sure to clear room in the fridge if necessary).
The Mouse House Cheese Co 12 Squeaks Of Christmas Cheese Advent Calendar

The best cheese advent calendars: The Mouse House Cheese Co.

Containing 12 100g cheeses made fresh from the team's family farm in Lincolnshire, this advent calendar from The Mouse House Cheese Co is perfect for someone who loves to try lots of different flavours.

Inside you'll find flavours ranging from caramelised onion and chilli to Christmas pudding and cranberry. 

Shop The Mouse House Cheese Co 12 Squeaks Of Christmas Cheese Advent Calendar at Not On The High Street, £34.99

BUY NOW

Cheesegeek Cheese Advent Calendar

Best cheese advent calendars: Cheesegeek.

This bumper cheese advent calendar isn't one for the light-hearted. Providing you with 1.8kg cheese in total, the calendar contains 24 different cheeses which are shipped in three separate deliveries to ensure the cheese remains in tip top condition. 

Each delivery also contains a pack of crackers, honey and a condiment, which you can pair with the variety of surprise flavours included.

Shop Cheese Advent Calendar at Cheesegeek, £150

BUY NOW

The Welsh Cheese Company Mini Welsh Cheese Advent Calendar

Best cheese advent calendars: The Welsh Cheese Company.

This pint-sized version of The Welsh Cheese Company's bigger offering contains six different pieces of cheese, weighing around 1.2kg in total. It's the perfect option if you don't want to eat cheese every day of the month but still want a taste of the action.

Inside you'll find a selection of delicious Welsh cheeses including Cenarth Brie and 'Bouncing Berry', a mature white Cheddar blended with cranberries that previously took home the Silver medal at the Nantwich International Cheese Awards.

Shop Mini Welsh Cheese Advent Calendar at The Welsh Cheese Company, £43 

BUY NOW

The Welsh Cheese Company Giant Welsh Cheese Advent Calendar

Best cheese advent calendars: The Welsh Cheese Company.

If you're looking to kick off your Christmas celebrations with a bang, look no further than this incredible calendar from The Welsh Cheese Company.

Measuring over a metre in width and packed with 24 individual truckles of artisan Welsh cheese, this calendar is sure to be a hit among hardcore cheese lovers. And while you'll need quite a big fridge to store it all (the calendar splits up into four boxes to make that task a little easier), the selection of incredible cheeses located inside should be enough to keep you going all Christmas.

Shop Giant Welsh Cheese Advent Calendar from The Welsh Cheese Company, £164

BUY NOW
So Wrong It's Nom Ilchester Cheese Advent Calendar

Best cheese advent calendars: So Wrong It's Nom Ilchester Cheese Advent Calendar.

Now in its sixth year, this cheese advent calendar from So Wrong It's Nom is filled with 24 individually wrapped tasty cheese bites for an incredibly affordable price.

Featuring classic cheeses including Red Leicester and Double Gloucester, the calendar is small enough to fit comfortably inside your fridge door, so you can make sure your cheese stays nice and fresh.

Shop So Wrong It's Nom Ilchester Cheese Advent Calendar at Ocado, £9

BUY NOW

Paxton & Whitfield Artisan Cheese Advent Calendar

Best cheese advent calendars: Paxton & Whitfield Artisan Cheese Advent Calendar.

For the ultimate cheese advent calendar experience, look no further than Paxton & Whitfield's artisan offering, which features a selection of festive and unusual flavours from British and European cheesemakers.

Shipped to you in three separate deliveries throughout December to ensure the cheeses remain fresh, this truly is a calendar like no other – and with only 550 advent calendars available in total, you'll want to act quick if you want to get your hands on one.

Shop Artisan Cheese Advent Calendar at Paxton & Whitfield, £150

BUY NOW

The Chuckling Cheese Company Cheeseason To Be Jolly Advent Calendar

Best cheese advent calendars: The Chuckling Cheese Company 24 Day Cheese Advent Calendar.

If you're a fan of experimental flavours, look no further than this advent calendar by The Chuckling Cheese Company.

Made up of 24 miniature truckles of cheese across eight unique flavours (including Sunday Roast and Orange & Whiskey), this calendar is the perfect option for anyone looking to add even more excitement to their Christmas countdown.

Even better, because the cheeses are all individually wrapped in colourful wax, they'll last throughout the festive season and beyond as long as you pop them in the fridge.

Pre-order Cheeseason To Be Jolly Advent Calendar at The Chuckling Cheese Company, £44.99

BUY NOW

The Chuckling Cheese Company Merry Cheesemas Advent Calendar

Best cheese advent calendar: The Chuckling Cheese Company Cheese, Crackers and Chutney Advent Calendar.

Not satisfied with producing just one cheese advent calendar, The Chuckling Cheese Company has brought out a second variation with a mix of cheese, crackers and chutney.

You'll get the same mix of cheese flavours as in the original calendar – including their limited edition Christmas Pudding cheese – as well as six days of mini crackers and six days of mini chutneys. 

Shop The Chuckling Cheese Company Merry Cheesemas Advent Calendar at Not On The High Street, £34.99

BUY NOW
Images: Courtesy of brands
Source: Read Full Article