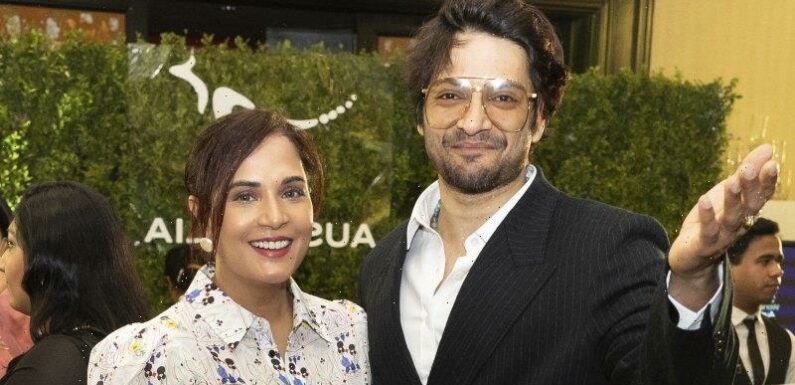 Bollywood movie stars have been told to expect a new deal to encourage more of their films to be made in Australia and more joint productions between the two countries.
Prime Minister Anthony Albanese signalled the deal in Mumbai on Thursday after meeting Indian actors and celebrities to promote Australian tourism.
Ali Fazal and Richa Chadha after meeting Prime Minister Anthony Albanese at the Tourism Australia event in Mumbai on Thursday.Credit:Alex Ellinghausen
The audience included actor Ali Fazal, the star of a string of Indian films as well as the British movie Victoria & Abdul, and Richa Chadha, an actress and outspoken activist on women's rights.
The terms of the audiovisual agreement are being kept confidential until Albanese holds a formal bilateral meeting with Indian counterpart Narendra Modi on Friday in New Delhi, but the two leaders have set up the agreement as another step towards closer economic ties, a key topic when they spoke while watching the cricket in Ahmedabad on Thursday.
"I'm pleased that our two governments have been working hard to bring our two film industries closer together," Albanese told the Tourism Australia event in Mumbai on Thursday.
"For me, as the leader of a government that has just launched a major arts policy in Australia, this is important.
"Films are food for the soul. They tell stories, they help us to feel and reflect on who we are, and where we come from.
"They can inspire empathy, foster understanding and promote dialogue.
"And bringing our two countries' storytellers together — actors, producers and filmmakers— will in turn bring our people closer together.
"I look forward to seeing more India and Australia and co-productions on our screen soon, showcasing the best of both our cultures, landscapes and people."
Chadha, who had planned to work on a film in Australia before the pandemic halted the idea, said an emerging opportunity for Australia and India was in joint productions with independent films rather than Bolllywood blockbusters.
"I think if there are things like shooting subsidies or tax benefits that could help independent producers, not just the big Bollywood films," she said.
"We produce more independent films, we also act in more independent cinema.
Fazal said the potential for joint productions went beyond the market among Indian people in Australia or around the world.
"It's not about finding the Indian diaspora, because I think the world's getting smaller," he said.
"So there are films that we're doing and we're going to do them for the world.
"It's happening – you just want to share as many stories as you can."
Fazal and Chadha, who married last year, spoke to Albanese after his speech to the event.
Another Indian actor, Jim Sarbh, who works in theatre as well as film, said he wanted to see a joint theatrical production between the two countries.
"There are some great directors that have come out of Australia," he said.
"I haven't heard of an Indo-Australian production yet — but I wouldn't be opposed."
The Morning Edition newsletter is our guide to the day's most important and interesting stories, analysis and insights. Sign up here.
Most Viewed in Politics
From our partners
Source: Read Full Article